I enjoyed  Edinburgh Spotlight's  '10 Faces in 10 Minutes' challenge a couple of days ago, so I decided to head back to the Royal Mile for some more Fringe face photography today.
It's bedlam up there – but I love seeing the creative ideas people  use to try to get passers by to come to their shows. Performers are appearing in ever more outlandish makeup and clothing. Right now, that is almost helping the painted people to blend into the crowd.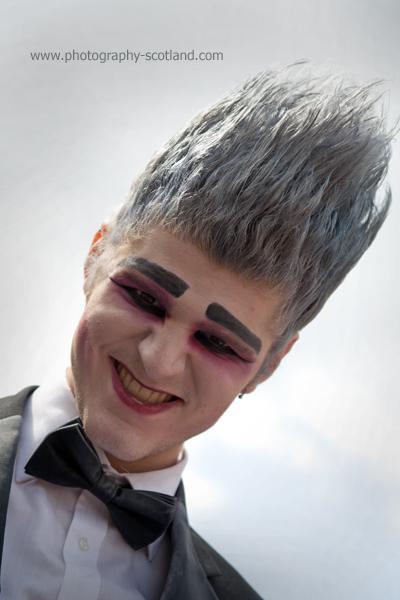 Still life poses are definitely in (and a huge bonus for those of us taking photos – plenty of time to compose a good shot!) The clowns were out again – today they were  responding to audience members suggestions of poses to strike, largely coming from the very youngest onlookers. Requests for 'happy clowns', 'elephant clowns', 'tiger clowns' were all responded to instantly. The parent of the very small child who yelled out 'drunk clowns' looked a bit startled!
Further down the Mile, another group had a different slant on this theme – they were changing pose everytime someone sneezed: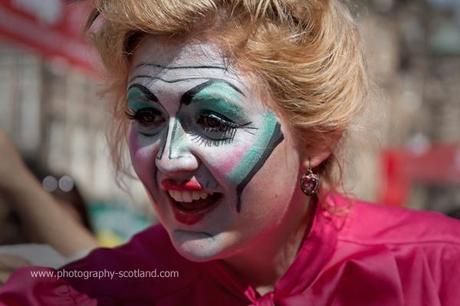 I can see a flu epidemic starting at their end of the street if they keep that up!
Near the bottom of the performance area, there were people handing out  fliers folded into paper boats, and a group who'd had their performance information printed onto lolly sticks.
…and there was plenty of music: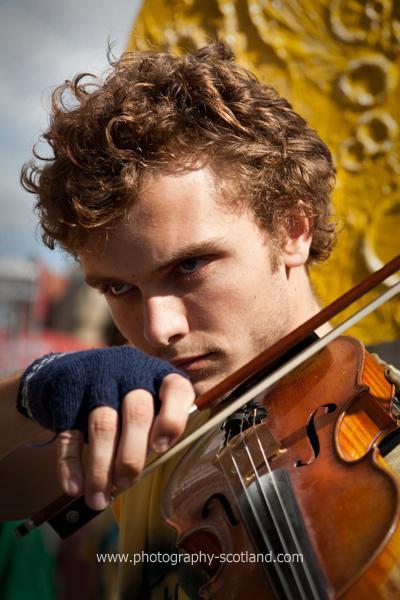 More photos from the Fringe on my Flickr pages