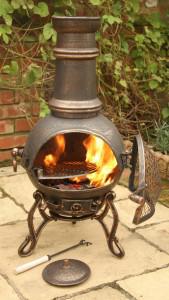 Taking a few minutes to sit out in the garden on a summer evening is one of the best ways to unwind and get back in touch with nature. An outdoor heater can add a bit of panache even in the summer, letting you enjoy your garden even on those cooler days and later in the evening. Gas patio heaters have become increasingly popular, but there are wood-fuelled alternatives which are a lot more environmentally-friendly, economical, and which will add a touch of style to your garden.
There are a range of eco-friendly heating options to choose from: chimineas, firebowls, and braziers are all popular, or for a real taste of European café culture, you could splash out on a fire bowl and seat set, or you could go the DIY route and build a firepit. Either way, once you've chosen a heating solution, you'll need to think carefully about what sort of fuel to burn in it.
Seasoned timber is always a good choice but buy from a local source to limit the carbon footprint of packing and transportation, and ensure the wood is being sustainably sourced. Alternatively, look into purchasing charcoal for your outdoor heater. Charcoal burns hotter than wood, and should be virtually smokeless, making it the normal choice for BBQ fuel, and gives a cleaner burn, but once again, make sure you buy your charcoal from managed woodland, local if possible. It's also worth reading the packaging carefully to make sure you're buying pure charcoal and not charcoal briquettes, which can contain a number of additives, such as wax, coal, and other binders.
There are also artificially made fuels available which are surprisingly eco-friendly. There are a variety of brands of fire logs, also known as heat logs or energy logs, on the market. At their most simple, these fuels are just compacted waste sawdust: they are 100% pure wood, available at a fraction of the price of seasoned wood and perfectly safe to use in the garden or for BBQs. They burn hotter than wood, last longer, and give off very little (if any) smoke and absolutely no particulates or creosote – which can be a particular problem in improperly seasoned wood. You should be able to find a brand without any binding agents as the process of heating and compacting the sawdust releases lignin, a natural compound which holds the log together.
If you want to go really green, why not make your own fuel? You can buy log- and briquette-makers which will compact garden and household waste into useful logs which can be stored for later use. The average household throws away a lot of potential fuel: paper, junk mail, cereal packets, egg-boxes, toilet-roll tubes, teabags, wood shavings and sawdust, etc. It's even an inventive way of disposing of sensitive documents when you're ready to get rid of them.
Even if you don't have a log-maker, you can make fuel from everyday garden waste by simply gathering dry fallen leaves in the autumn and packing them loosely into paper bags which can then go on the fire. Similarly, any other sort of dry garden waste, such as clippings from trees, smaller dry twigs and branches, and leftovers from gardening, will make great fuel. Do not burn grass clippings or fir or leylandii clippings; they will smoke badly when burned.
Whatever green fuel you decide to use, enjoy your summer!
Lewis Davies is an outdoor living enthusiast and writes for chimineashop.co.uk the home of the Toledo Chiminea Range.