I love how much there is to now eat, drink and do in Perth. The city has really come along in the last few years and it's awesome that the City of Perth puts the spotlight on the food & drink side of things for a month with Eat Drink Perth.
As part of my official Eat Drink Perth blogger duties, City of Perth gave me a budget of $100 to eat my way through the city. So on Sunday, I headed in to the Perth city with junior burger, my little bro and little miss bacon with the game plan of fitting in lunch, dessert and a quick shop  – I must say it's not a tough gig at all!
If you had $100 to eat and drink through the Perth city, what would you eat and drink? And would you share? I chose to share as having great company makes everything taste better
Here's my Eat Drink Perth journey…
Eat Drink Perth stop #1 – Perth Home Grown ($39 spent, $61 left)
Our eating journey started at the Perth Home Grown market on Murray Street. I loved the buzz these markets creates in the city and the opportunity to chat to the faces behind the local Western Australian produce, crafts and food on offer.
We spotted baklavas at the Original Recipe Original Sweets stall and thought instantly of my mum who was heading to my place to look after junior burger that night. Rather than just going for a few, we got greedy and bought a whole tray for $10 and one for the walk ($3)…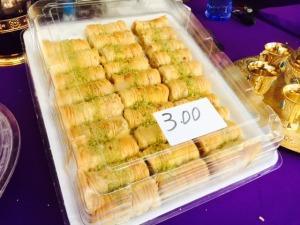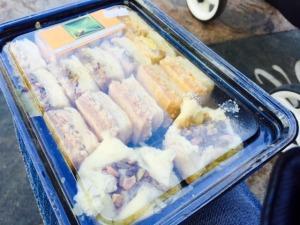 I stumbled across a local producer selling honey and ended up tasting a few. I decided that I had to have the red gum natural honey ($6.50). It was pretty sweet, perfect for cooking…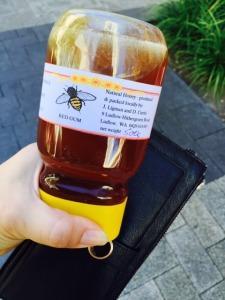 I then spotted The Honeycake which is THE most amazing cake on this planet so of course I had to have a slice ($5.50)…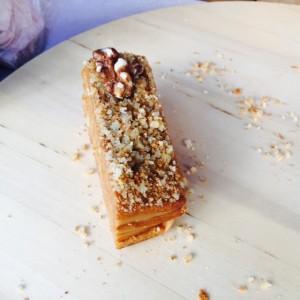 I actually agreed to share this slice with my brother and little miss bacon (what was I thinking?!) but am glad I did as it was their first taste of honey cake and won't be their last!
We were pretty excited to find Temptations at Perth Home Grown as we love their custard cronuts, we got three for $10 and also shared this cheese pretzel ($4)…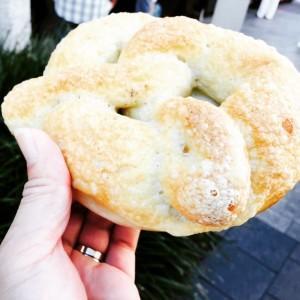 Eat Drink Perth stop #2 Toastface Grillah ($13 spent, $48 left)
We all felt like Korean food so we were making our way to Took Bae Kee when my bro spotted Toastface Grillah (read more about Toastface in this post). I absolutely love their toasties and was actually surprised to find them open on a Sunday.
My bro had my favourite Brie & Jam Toastie ($8) which impressed as usual – these guys really know how to make a good toastie! I was also excited to see that Toastface stocked La Paleta, so of course I had to have the Peach & Cream La Paleta ($5) before lunch.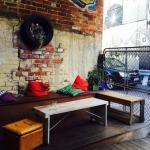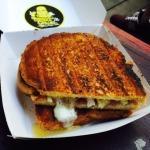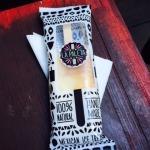 We did stop in at Took Bae Kee, but was disappointed by the service and how we were greeted when they saw that I had a pram. They weren't able to accommodate us but didn't tell us straight up, instead we were asked to wait outside as they decided what to do with us. After 5 minutes we ended up going next door to Poppo. I really enjoyed the food the last time I visited Took Bae Kee (review here), but the service has put me off from going back there again.
Eat Drink Perth stop #3 Poppo Korean & Japanese Restaurant ($29 spent, $19 left)
We had such an amazing experience at Poppo Korean & Japanese Restaurant!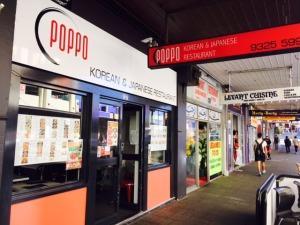 I had been a couple of times when I used to work in the city, but being on the other end of St George Tce, it was always a rushing in and out kind of place for me. Food was pretty much inhaled, so I never got to enjoy it as much as I did on Sunday.
The staff were friendly, there was plenty of space and they were mindful I had a sleeping junior burger in the pram. When we ordered at the counter, I thought that Poppo had made a mistake as our bill came to $29 and we had ordered 3 entrees and 2 mains between the three of us. I was worried they would miss a dish or two as my calculations were more than double what I paid. We later saw that Poppo had special prices during lunch.
For an amazing bargain price of $29, we shared a Chicken Salad, Crispy Fried Chicken, Seafood Pancake and Bulgogi Pork and a Beef Dolsot Bibimbap. The crispy fried chicken was pretty amazing, the chilli sauce tasted the same as some of the best Singapore Chilli Crab sauces I've had and everything else was really flavoursome too.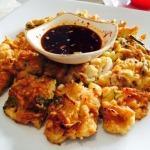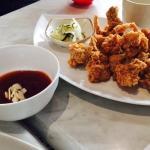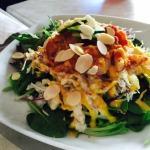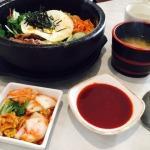 Water and corn tea was on the house which was a bonus as there's plenty of restaurants who charge per head for tea.
Eat Drink Perth stop #4 PresoTea ($5.50 spent, $13.50 left)
Our last stop was Presotea for my favourite Passionfruit & Pearl and Coconut Jelly Tea…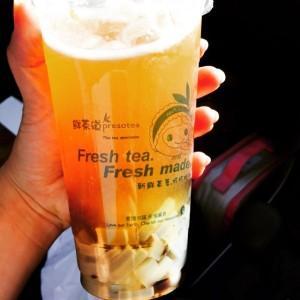 I love that Presotea brews their tea and has more of a natural flavour. I much prefer Presotea over the artificial syrupy taste at other bubble tea outlets.
Safe to say the three of us rolled out of the Perth city very satisfied. We even had food to take home and change for ice cream or an alcoholic bevvy if we had time/space!
I did have plans to go buy a cookbook from Boffins using the special 10% Eat Drink Perth Passport offer but ran out of time. It also didn't help that I couldn't find an alternative access which didn't require going down the escalator with my pram.
Disclaimer: foodie cravings was provided $100 by the City of Perth to Eat Drink Perth. See disclosure policy for more details.