After our concierge recommended Antica Pesa for the best in Roman cuisine we googled it. Its
website is complete with a video of the cook describing his creations, and the proprietor (his brother) being photographed with Deniro, Dicaprio and Travolta.  Now, I don't really care what celebrities think about restaurants, and this sort of advertisement kind of puts me off.  But hey, at least the celebrities were Italian.  We decided to give it a shot.
We took a cab to Trastevere and were welcomed into a lobby where we waited until the restaurant began seating.  Like Hosteria Romana, Antica Pesa opens at 7:15. ( I guess they do that for the foreigners, because the Romans don't show up until much later.)  Unlike the Hosteria though, we were in an elegant room, rather than a parking lot, while we waited.  The room was decorated with a large modern mural on one wall and photos of the proprietor with celebrities on the other.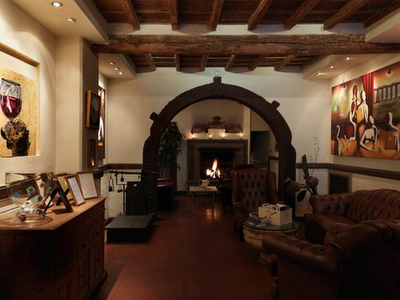 Within a few minutes we were escorted into the dining room.  It was a closed space that had a garden feel to it.  (There's another, more beautiful, room in the restaurant which wasn't being used.  It must be a seasonal thing.)  Tables were adequately spaced, and it wasn't too noisy.  We asked for the wine list and were presented with a heavy tome that resembled the Gutenberg Bible.  I'm not even exaggerating here; this thing was easily a thousand pages long, and bound in leather.
We opted not to read it and instead requested a Pinot Grigio, which was fine.
Our first course was was spaghetti with dried roe.  It had a light cream sauce and the flavor was subtle and delicious.  My main course was a whitefish filet in a potato-leek cream sauce with chanterelles on the side.  Again, a delicate, subtle flavor.  I was getting the impression that they were going for a sort of Nouvelle Cuisine Italienne, and when I went back to review their video, the cook did say he wanted to create a lighter cuisine based on traditional Roman ingredients.
After these two simple but elegant courses I was surprised to find my dessert a bit of a hodge-podge.  Not that there's anything wrong with that.  I ordered the "cocotte", which turned out to be a miniature sauce pan with several layers.  On the bottom was a salty hazelnut cookie.  Then came slices of persimmon, topped with "smoked black tea ice cream", and finished with a sprinkling of bacon bits.  Yes, the ice cream was topped with bacon.  I've since discovered that this has been happening in upscale restaurants for some time.  I was aware of the trend toward savory ingredients in desserts and cocktails, but this still struck me as odd.  It tasted good though.  
The only disappointment with this restaurant was that the level of service was not commensurate with the standard of food.  The waiter neither refilled our wine glasses nor remembered our orders.  At a place pretentious enough to have a thousand page wine list, "who had the fish" seemed out of place.