Food Fridays: 
While there are several boxes of take out around my house at any given time…I'm happy to report this time the boxes were full of healthy food that was made specifically when my little babe in mind. Thankfully, Bitsy's Brainfood and Sprout both had mom on the brain because not only was the food good for you, but it was easy to prepare and taste good too. So rather than focus on some of the great places to eat in DFW this week, I'm focusing on the boxed food that made Taylor Rose a happy camper.
Bitsy's Brainfood
If I ate the number of carbs my one-year-old consumed in any given day…we'll it would be much worse than it is right now. My little carb queen loves her crackers, cookies and of course, goldfish. Now if I could just get her to eat broccoli, carrots and peas like that, she'd be the healthiest baby in town. Thankfully, someone else thought the same thing and created the magic which is Bitsy's Brainfood. With letter-shaped snacks (think animal crackers), colorful packaging, cool stickers and characters to spark imagination, Bitsy's Brainfood makes learning fun and teaches children to crave the right foods.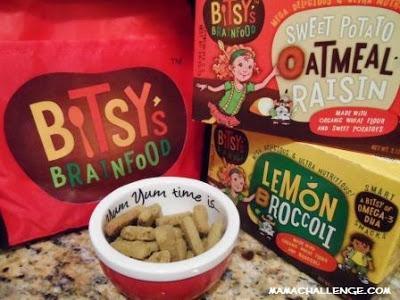 Bitsy's Brainfood features:
Made with organic ingredients and all natural fruits and veggies

Excellent source of iron, calcium, vitamins A, B 12, D 3 and Folic Acid

Made with Omega 3 DHA

No preservatives, trans fats, artificial colors or flavors

Available in Zucchini Gingerbread Carrot, Sweet Potato Oatmeal Raisin, Orange Chocolate Beet and Lemon Broccoli
While I'll admit the colors were a little different since they were made from natural ingredients and not artificial colors, the Zucchini Gingerbread Carrot crackers were delicious!
Bitsy's Brainfood are available for under $3 online at 

amazon.com

,

freshdirect.com

and 

bitsysbrainfood.com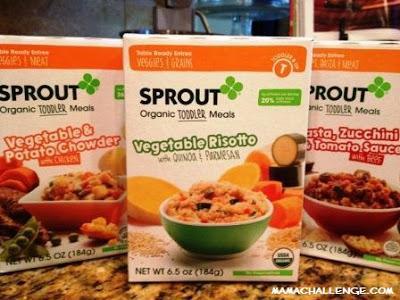 The other God-sent, kid-focused healthy quick food we discovered was Sprout Toddler foods. In a nutshell, think TV dinners for kids…but wait, you thought they already had those? They do, but if you look past the fun packaging and take a second to look at the nutritional facts, the calories, fat and SODIUM shouldn't be consumed by anyone, much less, your todds.
Sprout Toddler Meals are healthy with all natural ingredients, made to help put parents at ease during mealtime knowing they are feeding their children something that is good for them.

And even better, with options like Vegetable Risotto with Quinoa and Parmesan, your kids are learning to eat more than chicken nuggets and mac and cheese! Actually my little girl ate better meals than we did with her Sprout meals.
Overwhelmed by how good the food tasted and the variety available, I went to researching and found that Father and Food Network Star Chef Tyler Florence co-created Sprout baby food.  Even better he didn't create it because a big company wanted to use his likeness, but after watching a friend force some horrible baby food down her poor kid's mouth, he knew there had to be a better way. So he and the friend joined up and created Sprout.
It's so nice that I actually have new options for healthy food my kids like and we can expand past Garden Burgers and carrots!