I've always known that Vancouver has a decent food cart scene, but I've never really gotten around to trying anything other than Japadogs. But the other day as I was doing some shopping downtown, I realize that I was famished and ended up grabbing a quick bite from the Yves Veggie Dogs stand on Robson and Burrard. I've walked passed this stand numerous times, but this was my first time ordering from them.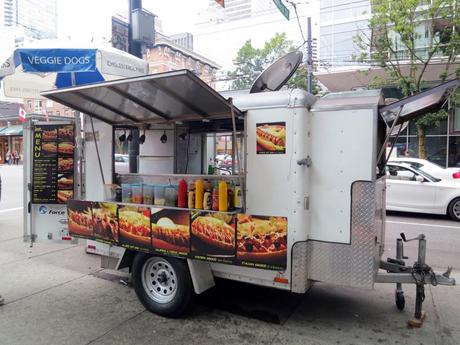 I kept things simple and just got the 100% Beef Hot Dog. Even though Yves specializes in making veggie dogs, their cart served some meat products as well.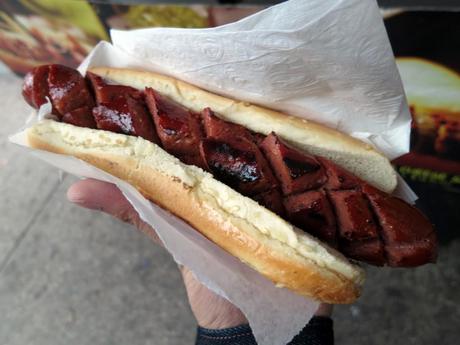 100% Beef Hot Dog ($5)
I helped myself to some condiments and bacon bits to enhance the flavor of my hot dog. Turns out, it was absolutely delicious! Perhaps it may have been because I was starving, but I loved how crispy and juicy the hot dog was. For fast food, this hot dog wasn't dry or overcooked at all. I would come here again next time I need to grab a bite on the go.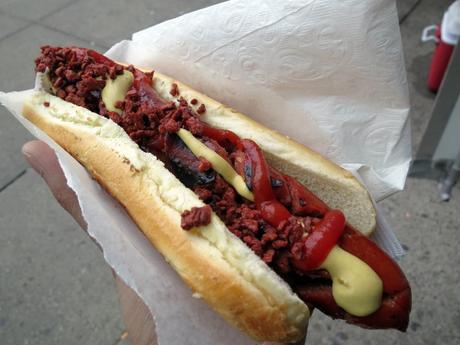 100% Beef Hot Dog ($5)
Now knowing how great Vancouver street food can be, I'm inspired to try out more of it, so stay tuned for more reviews of this such. As I've mentioned before in New York, I love street food carts and how they can add onto a city's culture. Glad that Vancouver has some decent ones!