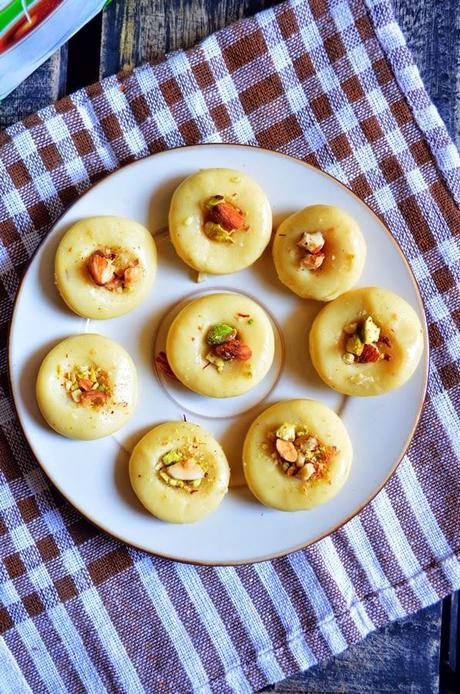 Of all the sweets and desserts available, I am one big fan of milk sweets.I just love kolkata sweets like rasgulla,rasmalai and my other favorites are kalakand,burfi,pal kova etc.This milk peda also known as dhoodh peda,paal peda is my all time favorite sweet.I can go on and on with these,if one would stop me or come for share :). I had a tin of condensed milk sitting in fridge for a while and I wanted to make something with it,first I was thinking about a cake then suddenly I started craving this peda,I had this recipe written in my notes and thought of giving it a go. I had made this few times before but somehow I was really not satisfied to share it here.One time the color of the peda was little dark and next time it was very dry,though the taste was great.So this time I tweaked the recipe and was really satisfied with the result,I just loved the color,texture and taste of these pedas.I assure you if you follow the below mentioned measurements your pedas will also turn out with same color and texture,I made around 16 pedas and it was all gone in one day :)Here I have added cardamom for flavor,you can add saffron,nutmeg or any combination as you like and same is for garnishing,I have used roasted crushed nuts,you can use raisins or completely skip garnishing too.The authentic way of making pedas calls for preparation of khoya that takes considerable time,so here is the easiest way of preparing milk peda for you all,lovely sweet fits for any occasion :)
If such easy and short methods for making sweet is your way too,then here are few from the blog
Easy kalakand recipe
Paneer peda recipe
Almond katli recipe 
Easy milk peda recipe
Star ingredients: Sweetened condensed milk and milk powder
Time:15 minutes
Yield:16 pedas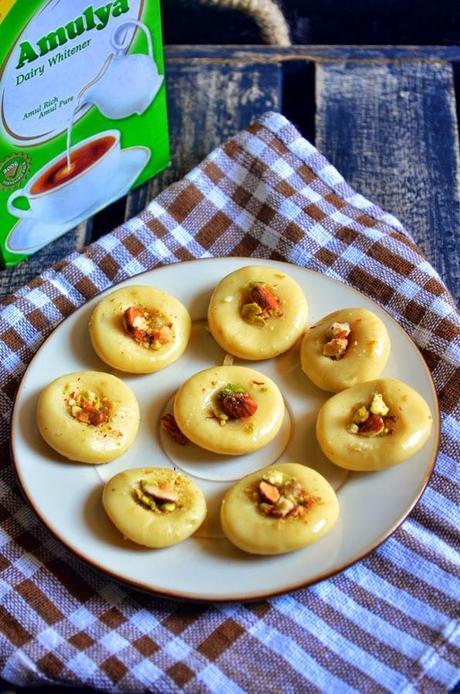 Ingredients:
1/2 tin or 200 grams sweetened condensed milk
1 cup milk powder
1/2 teaspoon cardamom powder
3 teaspoons ghee
1/8 cup roasted crushed nuts (almonds,pistachios and cashews)
Method:
1.Take condensed milk and milk powder in a nonstick kadai.Mix well till well incorporated and smooth.
2.Now heat the kadai,and start stirring in medium flame.Add ghee and stir for 5 minutes.
3.The mixture will start to leave the sides in 7 or 8 minutes,it will become a soft lump.This may take around 8 minutes and not more than 10 minutes.Add cardamom powder and switch off the flame.
4.Let the mixture become warm to touch.Apply some ghee to your palms and knead the mixture well.Knead it atleast for 5 minutes,it should become smooth and supple as you knead.
5.Pinch 16 equal sized balls from the dough and press slightly to give peda shape.Make a small impression with your thumb and fill it with crushed nuts.
6.Store airtight.
Notes:
1.The color of the pedas depends on how long you stir it in the stove.For the given quantity it should not take more than 10 minutes,if you stir for long time,pedas will turn dark and hard.
2.It is very important to knead the dough well,else pedas will have cracked look
3.Though it is ok to store them at room temperature,I always refrigerate such sweets.