Hi Friends!
At my house I always have bananas. :-) Not that I personally eat them a lot, but bananas are cheap and healthy so I feel like if I have them on my counter at all times the chances that my children will grab a banana (over chips) are elevated - hee,hee.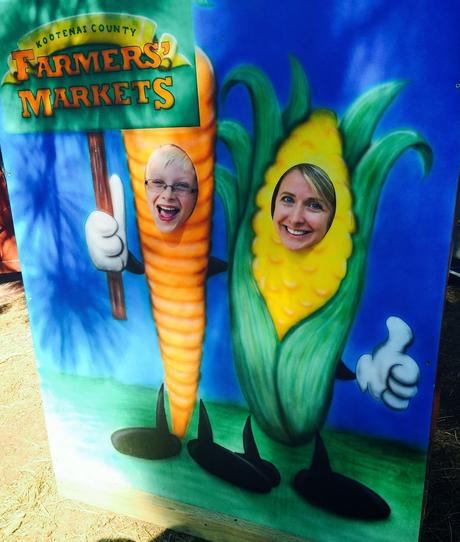 This recipe gets 2 thumbs up from the dorky carrot and corn "people" i.e. my son and me ;-)
Unfortunately what usually happens to my nice display of counter bananas is quite a few of them turn black - well, maybe just a very spotted brown. :-)
I have 2, gallon size bags in my freezer full of peeled very ripe bananas.  I use them in banana shakes for my kids ALL the time (just bananas, milk, and plain Greek yogurt.....sometimes I add cottage cheese too, they have NO idea as it is so well blended)  
When I found this recipe on Pinterest I had to give it a shot.  I am all about just dumping ingredients in a bowl and baking it up (sorry to disappoint anyone who thought I might have been a gourmet baker- hee,hee) But what I have found is you can't mess these up - really!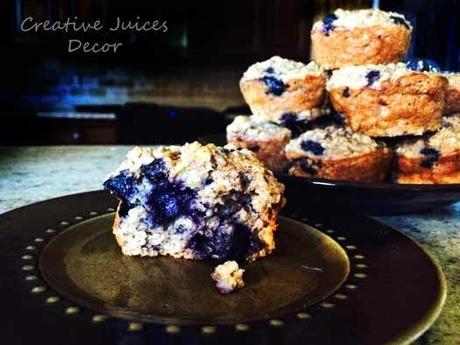 EASY Blueberry Banana Oatmeal Muffins
(no sugar, dairy or flour!)
3 very ripe bananas
1 cup vanilla almond milk

(I used unsweetened flax milk)
2 eggs

(I used 6 tbsp egg whites)
2 cups oats

(I used the quick ones)
1 Tbsp baking powder
1 tsp vanilla extract
dash of salt and cinnamon
 (if you want it a bit sweeter add a dash or few drops of stevia)
Add blueberries (or any fruit!) 
ok, this actually would work with chocolate chips too (shhhhhhh)
Dump ingredients in the mixer and slowly mix until bananas are all mushed throughout batter (I am so good with this professional baking terminology - ha!)
Let me re-try that - "Mix until bananas are well integrated throughout your delicate oatmeal batter." ;-)
Bake 350° for 35 min or till inserted toothpick comes out clean
* For those of you who would like to add a bit more PROTEIN to these muffins, I experimented with adding a scoop (or two) of protein powder and it didn't change the taste at all.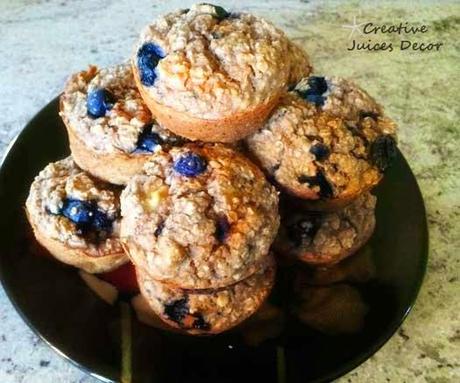 They turned out REALLY good! And just so you guys know, I don't post all the recipes I try, only the ones that were "hits" :-)
Enjoy!!!