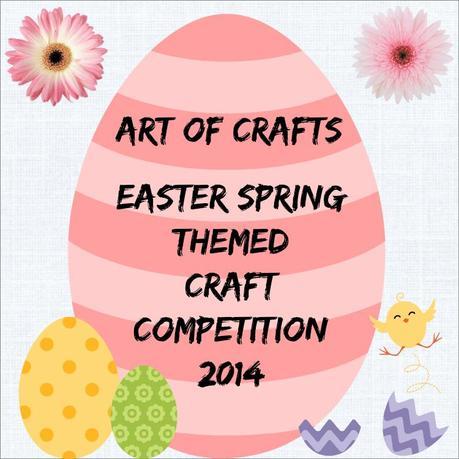 Today I am pleased to announce the new Art of Crafts competition.
I love this season so I have chosen the themes of Easter/Spring and I know we are going to see some beautiful entries. There are Amazon gift cards for the top three, so please read on for all the details.
To enter you need to create a piece of unique craft or art work that is inspired by, or which celebrates, Easter/Spring. Think flowers, eggs, bonnets, bunnies, lambs, chicks…..anything which speaks to you of this time of year. You can enter artwork, jewelry, sewing, ceramics, knitting…..any type of craft at all, as long as it is your own work. Please add a title to the piece that sums up the inspiration behind your work and if you have a website/blog/shop then please feel free also to leave a link in the description/title area. Professional crafters and hobby crafters are both equally welcome.
The competition is run through a Facebook app and it is very simple to enter, all you do is upload your photo and add a caption and your link if you wish to.
PLEASE READ DOWN FOR THE T&CS, THE VERY COOL PRIZES AND 'HOW TO ENTER'.
Terms & Conditions:
*   To enter you need to submit a photo of your Easter/Spring themed craft piece
*   Only one entry per person is allowed and please do not resubmit work that you have entered into any of our previous competitions.
*   The winners will be decided by how many votes the photo has. Voters can cast 1 vote per photo per Facebook account for the duration of the contest. Please share your entry with your friends in order to spread the word.
*   You may enter from today and entries will be closed at 11.59 pm PST on the 30th April 2014
*   Anyone 18 or over may enter
*   By entering you are giving Art of Crafts permission to add an image of your entry to this blog, should you be amongst the winners.
*   If you are in the top 3 you will be contacted via email. We will contact the winners by the 10th May 2014 and you will have 21 days to respond. If we do not hear from you within that time then another winner will be selected from voting. Art of Craft's decision on how the prizes are awarded is final.
The Prizes are as follows:
1st Prize – $50/£50 Amazon Gift Card
2nd Prize -$30/£30 Amazon Gift Card
3rd Prize – $20/£20 Amazon Gift Card
(Prizes are offered in both $ and £ to cater for where the winners are based)
HOW TO ENTER:
*   Please submit your entry here. Please also leave a caption and for those with a handmade business you can also leave a link to your shop/blog.
*  All valid entries will appear and can be voted on at that link.
Any questions then please let me know.
Please Retweet This Competition by Clicking Here – it's already set up, just click and Tweet and share the Love! Thank You.
Good luck everyone! 

Spread The Word!



