The custom of giving eggs at Easter has been an annual occurrence for many centuries. Originally the eggs given where bird's eggs, painted in bright colours, but these days we're much more likely to exchange delicious chocolate eggs.
However, no matter how much you'd like to spoil your four legged friend this Easter, please don't be tempted to share your chocolaty treats with your dog. The reason for this is that chocolate is a risk to dog health as it contains an alkaloid called theobromine which, if ingested by your dog, can cause theobromine poisoning. Symptoms of theobromine poisoning can be really quite unpleasant and include digestive problems, dehydration, slow heart rate and even seizures.
So if you want to spoil your dog this Easter, instead of chocolate, why not treat them to something else with an Easter theme? There are plenty of Easter gifts for pets out there, but to provide you with a little inspiration – and help save you some time – check out this great selection of Easter gift ideas for dogs.
Easter Dog Collar

Why not treat your dog to a new look this Easter with this 'Egg-sellent' Easter themed dog collar? This gorgeous accessory is handmade and features a colourful egg and chick design with a touch of glitter! The collar is designed for larger dogs with a neck size of between 16-25 inches and is 1 inch wide. Different sized collars are available on request.
Buy it from: CaliforniaCollars on www.etsy.com
Splish & Splash Dog Toys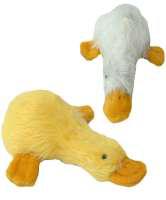 Available in yellow or white, Splish and Splash are two cute little furry ducks complete with squeakers – although we're not quite sure which one is Splish and which one is Splash. These delightful dog toys come complete with a squeaker in their tummy, are soft to the touch and are approximately 25cm in length, an ideal size for small to medium sized dogs.
Buy it from: www.pressies4dogs.co.uk
Easter Cupcakes for Dogs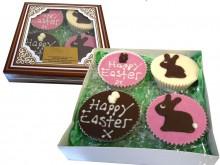 Treat you dog with these delicious looking doggy cupcakes – baked especially for dogs. These cute Easter cupcakes are gift packed in boxes, complete with decorative ribbon and contain dog friendly ingredients.
Buy it from: www.buyallmeans.co.uk
Easter Chocolate Chip Dog Treats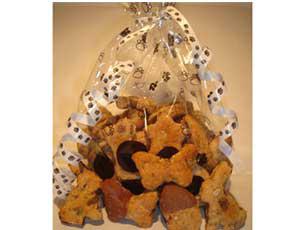 These tasty chocolate chip dog biscuits come in a paw print bag tied with pretty paw print ribbon, making them the perfect gift for any dog this Easter. Each bag contains at least 15 delicious doggy treats with special doggy chocolate chips for your pet to enjoy. The biscuits include a mix of Easter egg shapes, bunnies and butterflies and are freshly baked to order.
Buy it from: www.bonniedogs.co.uk
Puppy Easter Egg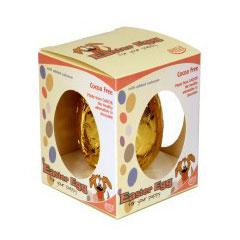 If you really must buy your dog a chocolate egg this Easter then makes sure it's one special made for dogs. This fun Puppy Easter Egg is made from carob, the safe alternative to human chocolate, and is sure to be greatly received by your four legged friend this Easter.
Buy it from: www.petplanet.co.uk
Easter Bunny Outfit for Dogs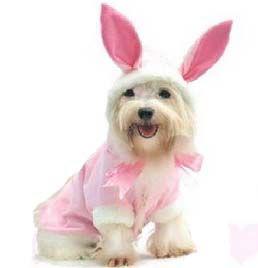 Dress your dog for the occasion with this pink bunny for little dogs. Transform your pooch into the Easter bunny with this fun doggy outfit made from pink fabric, complete with hood and pink bunny ears.  For the Safety of your pet however, do be careful when selecting the appropriate size.
Buy it from: www.pampered-dog-gifts.com