Kelly Armstrong has been one of my favorite authors for years now. I read (and own) every book in her Otherworld series (also known as Women of the Otherworld). Honestly, I wasn't sure what I was going to do when that series ended. I've read a few of her young adult books and enjoyed them but for some reason I was thinking she was still working on that series and I didn't want to return to it until it was complete. (Turns out she is actually finished with those so I'll finish it when I get a chance.)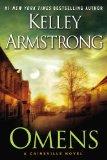 When I initially read the description for Omens, I wasn't sure it was something I would be interested in. I mean one of the reasons I like the Otherworld series is that it has werewolves, witches, ghosts, vampires, demons, etc. Omens is about a wealthy girl, Olivia, who finds out she is actually the child of serial killers. This revelation sets her on the path to discover more about her parents and where she comes from. Olivia teams up with her mother's former lawyer, Gabriel, to investigate her mother's claim of innocence. Doesn't sound very paranormal, does it?
I added Omens to my never ending list of books on Goodreads and figured that I would get it from the library eventually. When I received an email asking if I wanted a copy to review I actually thought about it for a few days instead of simply jumping on it because it was Kelley Armstrong. In the end I decided to accept a review copy and bump it up on the reading list. I am so glad that I did!
Armstrong wastes no time in setting events into motion and stripping Olivia of everything related to her privileged life. Olivia flees the media attention surrounding the news of her adoption and birth parents, the Larsens, and ends up in the town of Cainsville. This is no ordinary town and Olivia certainly didn't end up there by accident. The residents of Cainsville, people and animals, seem to sense something special about Olivia and most seem to have their own secrets as well. This is the paranormal aspect of the book that is just barely hinted at in the description. In her spirit, determination, and stubbornness Olivia reminds me of Savannah from the Otherworld series. Neither one is willing to sit around and wait for someone else to take charge of the situation and the combination of impulsiveness and courage lands them in some tough situations.
Omens is a unique blend of mystery and supernatural with a heroine who is determined to discover the truth when the identity she has always known turns out to be false. Once I started Omens I did not want to put it down and kept reading well past my usual bedtime. Based on the first book alone, the Cainsville series is going on my "must buy" list and will be bumped up to the top of the reading pile with each new release.
The official release date for Omens is August 20, 2013. Pre-order at Amazon: Hardcover or Kindle


Library Girl Reads & Reviews is an Amazon advertising affiliate and I will receive a small fee when purchases are made through Amazon links on this site.


Note: All opinions presented in book and product reviews are my own. Opinions presented in posts authored by others reflect the view of the author only and not necessarily my view or opinion.