Datable evidence suggests that earrings of the stud type were introduced into the Egyptian parure towards the end of Amenhotpe III's reign or in the Amarna period; they were therefore still a relatively recent innovation in the time of Tutankhamun. At least three pairs were included in his funerary equipment, two of gold inlaid with semiprecious stones and the more modest examples - one incomplete - illustrated here.
The complete specimen in this pair shows that each stud originally consisted of inner and outer mushroom-shaped bosses attached to shanks of tubular form, one slightly larger in diameter than the other, which fitted into the perforated lobes of the ears in a telescopic fashion. The tubes are made of gold, corrugated to provide a better grip.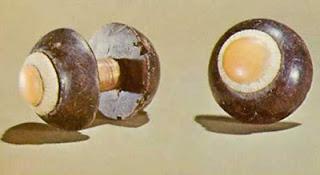 When worn, the only part of the ear stud that could be seen was the outer boss; it might be plain or decorated. In these studs the greater part of each boss is made of reddish black resin, a substance used in many pieces of Tutankhamun's jewelry. It differs in its composition from amber and is believed to be a product of coniferous trees brought to Egypt from the region of Lebanon.
The material used for the white band has been identified by different authorities as crystalline limestone and as ivory, and similarly the center cap as possibly glass and as translucent calcite, which may have been fixed with a cement containing a red pigment to give it a reddish hue.