New to little Indiana? Subscribe for free to my RSS feed. Thanks for stopping by!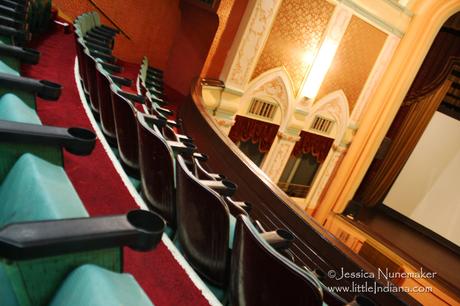 Wabash Theater: Eagles Theater in Wabash, Indiana
little Indiana had heard about the restoration project going on at the old Wabash theater in Wabash, Indiana but that didn't prepare her for what she found!
Wabash Theater: Eagles Theater Restored
We walked in the doors after a movie let out for a quick peek. To be honest? I wasn't expecting anything phenomenal, but I was curious since I had more than a few people tell me that I absolutely had to take a look at Eagles Theater.
The red padded doors were open and…it was the most amazing movie theater I have seen so far. Not just one floor, not just two floors, but three floors of seating! The third balcony is not accessible at this time, but that just gives you an idea of how grand the space is.
A Closer Look
This Wabash theater is just incredible. Tall velvety curtains surround a very large screen that hangs above a stage. It makes me think of the old days of movies, when a piano composed the music score and sound effects were created in theater with everyday items. The pastel hues are very old-time.
There are so many seats–I was left wondering how many people could fit in this spacious theater. Want to guess? Are you ready? Once upon a time, the Eagles Theater seated 1200 people (back when the third balcony was also open).
But more than that, I wonder how many seats were once filled during the Golden Days of this Wabash theater! I can imagine folks sitting elbow to elbow to watch old films, quietly munching on popcorn in this unique Indiana town. Boisterous kids in the upper balcony. Pretty cool, don't you think?
Get Your  Popcorn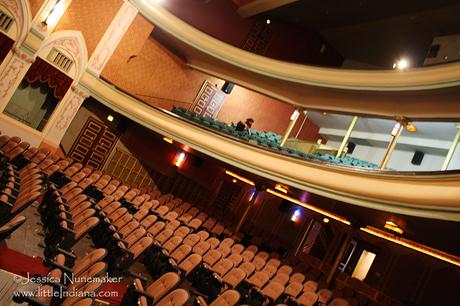 Wabash Theater: Eagles Theater in Wabash, Indiana
I would love to watch a movie in this theater. If I am impressed, I can't imagine how excited Kid #1 would be about the whole thing! He would absolutely love that.
Floor-seat or balcony, this Wabash theater, the amazingly restored Eagles Theater, will certainly take your movie-watching to the next level. I, for one, plan on trying to catch a movie here the first chance I get.
Thanks to the cleaning crew for letting us poke around while they were tidying up the three tons of spilled popcorn. For once, I'm happy to say, I had nothing to do with the mess!
Does anyone know any more of the history of the Eagles Theater in Wabash, Indiana? Please let me know. I would love to hear some personal stories about this amazing, amazing building! I would imagine there are more than a few interesting tidbits about its past.
Stay tuned for more images of the Eagles Theater and other pictures in Indiana on my Flickr photostream.
Eagles Theater in Wabash, Indiana
106 W Market Street
Wabash, IN 46992
260.563.3272

View Larger Map