Bourgeouis whimsy framed in social commentary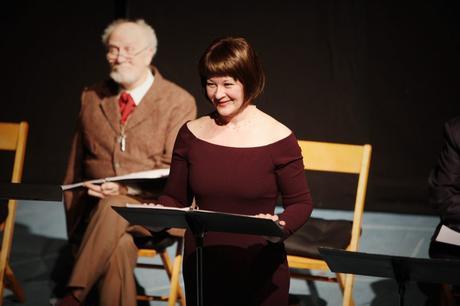 ShawChicago ends its 2016-2017 season with, what some regard, as George Bernard Shaw's best work. His World War I dramedy, Heartbreak House, is a caricature of the 1910s British upper-class family obsessed with how things look and heaven forbid, bad manners.
At Heartbreak House, no one is concerned that there is a war going on and how it may soon affect them! Boss Mangan, a cold businessman, will marry Ellie Dunn, despite being her father's age. Ellie Dunn concedes because she's tired of being poor and she's just found out that her one true love is married…and a scoundrel! Hector Hushabye is married to Hesione and Hesione's sister Lady Utterword has just returned to the mansion after being gone more than 20 years…little does she know her brother-in-law, Randall, is in romantic pursuit. Captain Shotover, Hesione's and Lady Utterword's father, just wants a bottle of rum and some peace. Just outside their window, a strange man breaks in, only to ask for charity.
At an unofficial house party, with so much unrequited love, desire is rampant and pettiness is guaranteed. But even with the whole world burning, only witty humor can forge any sort of happy ending for these lasting characters. Or will it?
The play is performed in ShawChicago's signature concert-style setting, based on how Shaw's plays were originally censored by the British government. The acting is superb and frankly, the scenery is not missed. In typical Shaw tradition, even the character's names show Shaw's disdain for them and they are hysterical.
"Essentially the upper class who should be the ruling class fiddles while the country falls apart," says Artistic Director Robert Scogin. "It's just as relevant today because there are so many politicians in government, but nothing's getting done," says Scogin.
This fine production runs through March 27 at the Ruth Page Center for the Arts, at 1016 North Dearborn Street in Chicago. Cast members include: Lydia Berger Gray, Allison Cook, Christian Gray, Richard Henzel, Doug MacKechnie, Richard Marlatt, Mary Michell, Jonathan Nichols and Barbara Zahora who are outstanding.
TICKETS: $35.00 general, $30.00 senior citizen, $20.00 students. Tickets may be purchased at www.shawchicago.org or via phone at 312-587-7390.
Photo courtesy of Dakota Sillyman