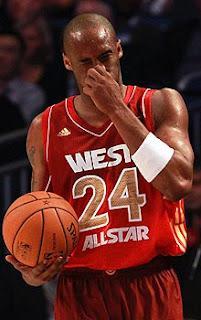 Photo: Getty Images
- Troy Ballard 
Kobe Bryant may have had a stellar game in Orlando, breaking Michael Jordan's point total in All-Star games, but it came at a cost, as the Mamba suffered a nasal fracture on a hard foul by Dwayne Wade.
Immediately following the game,
Wade sent Bryant a message apologizing
 for breaking his nose. A classy move from a classy player. We here at Beard and Stache admire Wade's maturity and respect by apologizing to Bryant, even though it was an obvious mistake. Wade has proven time and time again he is not only an elite athlete, but that he is also a gamer that is willing to respect his opponents and rivals.
As nice as it was for Wade to drop Kobe a note, it likely won't solve any of the Lakers' issues. Especially if Bryant misses any extended time with the injury, which is still up in the air. LA's best player missed practice and instead went to see a specialist after feeling ill effects from the injury.
With Bryant, it usually doesn't matter what the injury is, he plays through it. Earlier this year, he tore a ligament in his wrist and instead of resting on the sideline, Bryant received shots before each game to stay on the court. Can the Mamba push through his latest ailment?
Some LA fans are in total denial, and are refusing to even think of the possibility that Bryant could miss extended time. One writer
went as far as to claim
, "
100% chance of a Mamba sighting against Minnesota on Wednesday.
"
That's a touch bold for my liking, but I do know that whenever the term 'specialist,' is added into the equation, it's never a good thing. Usually it infers directly that the injury is more serious than originally thought, and a bigger issue than predicted.
Although, that isn't always the case. Bryant could be going to that specialist just to be crystal clear -- Bill Clinton style -- that he is good to play with the nasal fracture. This is of course what both Bryant and the Lakers are hoping for, as this would keep them directly in contention.
I don't feel that will be the exact case either. To an extent, I believe Bryant will be back on the court soon. He will miss at least a few games with the broken nose, but will rush back as soon as he possibly can. Then his play will suffer because even the Mamba isn't totally immune to serious injuries. With that, so will the Lakers.
As of right now, Los Angeles is on life-support and the entire team is currently checked into
Mamba General Hospital
. Bryant is currently the only thing keep the Lakers from dipping below .500 and into a massive losing spiral.
The entire Lakers fan base better hope that denial will help change reality, because if this nasal fracture hurts Bryant more than Los Angeles is trying to lead on -- the result could be incredibly bad. Or, I am totally off base, and Bryant could be back in full-force this Wednesday against the Timberwolves.
I'll let you decide.
Lakers Tickets
Lakers Playoff Tickets
Be sure to follow Beard and Stache on Twitter @BeardAndStache, and also Troy @TroyBallards, Like our Facebook page HERE!