Some days ago I came across a website on "The Astronomy and Astrology of the Dwarf Planets". I didn't know how many so-called dwarf planets have been discovered in the last years, you find more on this in Wikipedia.
But what interests me is how Nick Anthony Fiorenza on his above site explains how to explore the astrology of newly discovered objects in our solar system. He outlines several things "that can give us significant insight into the astrological nature of new astronomical bodies" and describes the qualities of the dwarf planets. He especially describes Haumea and Makemake. So he attributes to Haumea "an essence of 'purity' or a birth of specialness, the ability to produce a fresh or clear state of consciousness" – Haumea being the Hawaiian Goddess of Childbirth and Fertility.
And Makemake is the Polynesian name for the creator god of humanity in the mythology of the South Pacific island of Rapa Nui (Easter Island). His association with the lunar constellation Revati "indicates involvement with economics and money–material wealth gained from participating in the dramatic psycho-emotional world of human affairs–where the bucks are."
"As above so below." It says that the consciousness of humanity opens up to new dimensions whenever a new planet gets discovered. All these trans-Neptunian objects discovered in the last decades indicate that we are heading ahead into new and still quite unfathomable dimensions of this great time of transition.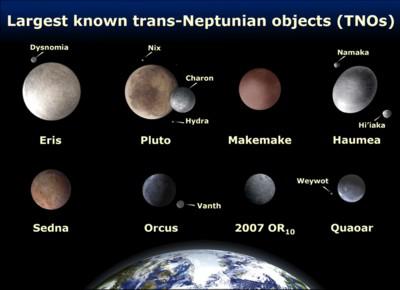 The 8 largest known trans-Neptunian dwarf planets, from Wikipedia.