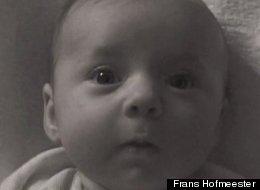 Lotte Hofmeester as a baby. Photo credit: Frans Hofmeester
As anyone who is in their early thirties and has a Facebook account will know, almost all new parents (understandably) like to chart their babies early progress through life by taking lots of photos of their pride and joy and sharing them with their friends.
Frans Hofmeester, a Dutch filmmaker, has taken this impulse to the next level. For the past 12 years he has filmed his daughter Lotte every week. While Lotte changes as she grows up the background – the baby blanket, the white background – remain the same. The result is a startling timelapse video, which has touched many and raced to millions of views online.
Underneath the portrait of Lotte on Vimeo, people have been gushing their approval for the long-term project. "What a beautiful and loving way to say, 'I love you!' Thanks for sharing it with us here" writes one viewer. Another sighed, "Wow…amazing! That made me cry. Very well done!"
Hofmeester told Huffington Post UK that he embarked on the project as a way to "keep his memories intact." "She was changing at such a rapid pace, that I felt the need to document the way she looked." Hofmeester said that he decided to post the video now as Lotte is just entering puberty, marking another period of growth: "She'll be changing a lot over the coming years, but primarily on the inside. I thought the first year of secondary school was a good demarcation. "
Lotte Time Lapse: Birth to 12 years in 2 min. 45. from Frans Hofmeester on Vimeo.