HOME $ GARDEN
❤ ❤ ❤ ❤ ❤ ❤ ❤ ❤ ❤ ❤ ❤ ❤ ❤ ❤ ❤ ❤ ❤ ❤ ❤ ❤ ❤ ❤ ❤ ❤ ❤ ❤ ❤ ❤ ❤ ❤ ❤ ❤
H
ere I am going to show you pictures of Looms of India round cushions that I bought from Pepperfry.com. I was in love with these cushions and still like them but kinda hate them too. Why? Because these cushions only look like Rajasthani cushions but they are actually not (at all ). Read ahead to know why!

A perfect combination of rustic Indian designs and contemporary panache is what makes this cushion a must have product. The design, which features mirror work is indigenous to Gujarat, is lively and quite alluring. Aesthetically pleasing, the product looks quite stylish and sophisticated, increasing sophistication of your home decor. Because of the mirror work, overall beauty is heightened.
- Pepperfry
Mirror work?
like this
Shell work?Gota work?Handwork embroidery?Cushion and Cushion Filling:Go buy
Check out

Pepperfry.com Online Shopping Experience and Review:
Positive :
Thank God I found out the Flipart page selling the same cushions. It seems like Pepperfry.com is honest in pricing the products.
Negative:
But they should definitely keep a check on the product description which can be misleading for buyers, resulting in disappointment and negative experience.
Positive:
Prompt on sending emails and SMSes about each and every update from purchase to delivery.
Positive:
The delivery time takes close to three days. Bought on 18th June and got the product on  20th June. Perfect!
Negative:
Cushions were packed with a plastic wrap with Pepperfry logo on. Pepperfry team should be a little alert for what could happen while product is out for shipping.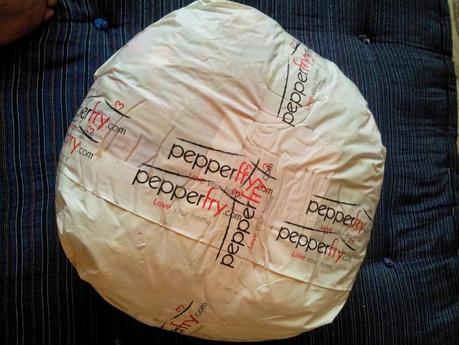 Positive:
+Looms of India
I want to know how other buyers will react to this experience -
Would you still like to buy these cushions?
#shoppingaholicsconfession
 It feels like I am still hungry for more and genuine Rajasthani cushions, and everything else that we can get in Rajasthan. That's why, I am planning to visit Rajasthan for some serious shopping.