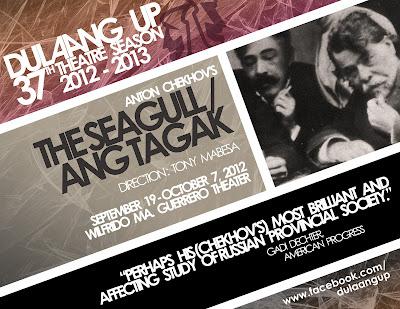 A seagull is shot and everything unravels.
Dulaang UP's second offering for its 37th Season, "The Seagull (Ang Tagak)", is widely considered to be the greatest work of master dramatist Anton Chekhov. It runs September 19-October 7, 2012 at the Wilfrido Ma. Guerrero Theater, Palma Hall, University of the Philippines Diliman.
Directed by Tony Mabesa, the play will be staged both in English (translation by Tom Stoppard) and Filipino (translation by Rolando Tinio).
The production stars theater luminaries Ana Abad Santos, Frances Makil-Ignacio, Ces Quesada, Leo Rialp, Menggie Cobarrubias, Jeremy Domingo, Alfonso Deza, Stella Cañete Balucas and young actors Carlo Tarobal, Zafrullah Masahud, Karen Gaerlan and Nadine Samonte.
Konstantin Treplev, a young writer, premieres a play he has written. It features the girl he is in love with, Nina Zarechnaya, a beautiful and wealthy neighbor. After seeing her son's play, Irina Arkadina dismisses it as a failure, and calls Kontantin's attempt foolish, impractical and pretentious. Meanwhile, Nina is drawn to Irina's lover, the successful novelist Boris Trigorin.
In the middle of these romantic and artistic conflicts are more elaborately developed characters, a staple of Chekhov's works.
For sponsorship and ticket inquiries, contact the DUP office 9261349, 9818500 local 2449 or 4337840. Look for Camille Guevarra or Samanta Clarin.