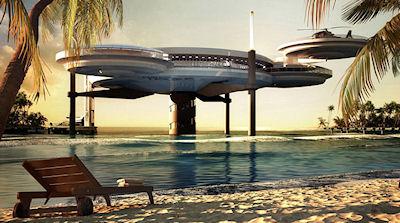 Wen it comes to outlandish new design ideas, Dubai is certainly ahead of the curve. The glittering emirate has already got the tallest building in the world, the Burj Khalifa, and even the Earth itself - in the form of dozens of man-mad islands just off its coastline.
So it is no surprise to hear that architects are set to take on a new challenge - building a half-submerged hotel, complete with underwater rooms offering views of life below the surface of the sea. The '
Water Discus Hotel
' - a spaceship-shaped building perched in the water and looking not unlike a Jame Bond villain's lair - is set to be the first of several planned across the region.
The Presurfer