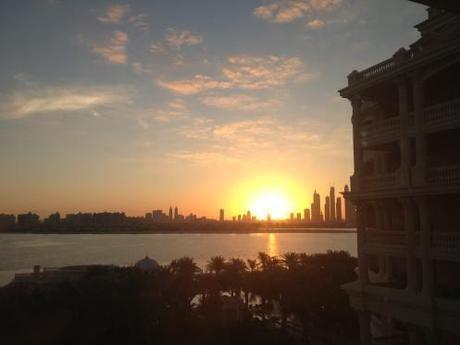 Beautiful Sunrise in Dubai
To be honest, I was procrastinating to start this post for almost a month, writing it all off on tiredness and a busy work schedule. But the truth is Dubai just happened to be my second mismatch. This city, no matter how modern and vivid it is, was just not for me. However, for the sake of my readers, I'll try to stay a true storyteller and deliver an objective overview of the new mecca of the Middle East.
My first visit to Dubai happened in 2001, and back then Dubai was already one of the most impressive urban gems. Tall skyscrapers, part of its contemporary landscape, organically fitted in the scenery of the Arabian desert and secluded Middle Eastern culture. Men wearing traditional snow-white dishdashas were driving Porsches and Mercedeses, and women, covered from head to toe in black abayas, unveiled luxurious Dior and Chanel dresses and expensive jewelry underneath while fixing their make-ups in the ladies room. That contrast mesmerized me. Finding virtue in modern technology and economic advances, this emirate stood firmly by its traditional values. It still felt like immersing myself in a completely different culture; it felt like being in the Middle East.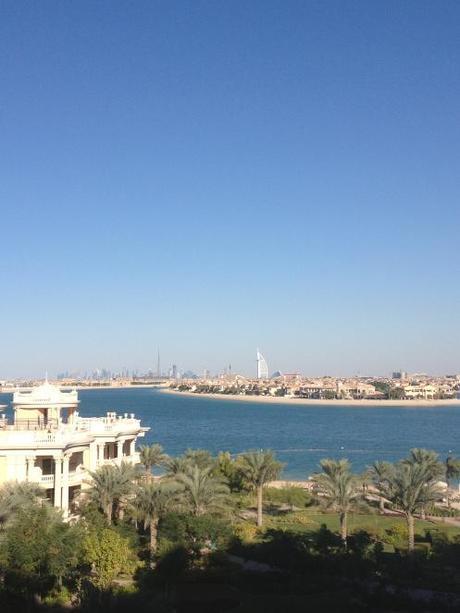 View from the Kempinski Hotel
More than 10 years had passed, and my dad set to organize a New Year's family reunion to be celebrated in Dubai. I heard on my occasions that Dubai progressed even more: artificial islands, show-off hotels, tallest skyscrapers, largest shopping malls – I was in great anticipation to see all that.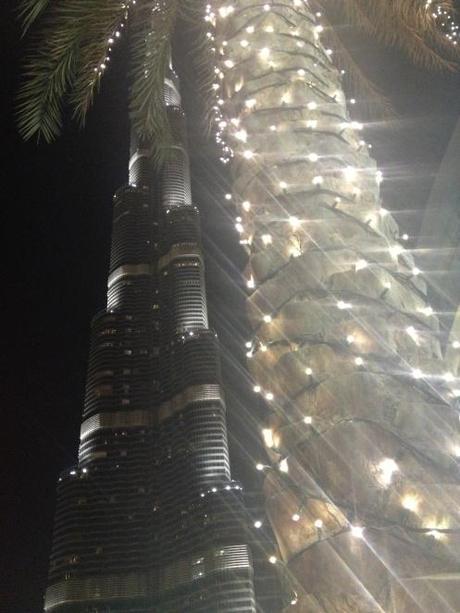 Burj Khalifa
And indeed, Dubai boasts the tallest building in the world. Burj Khalifa, reaching up to 830 meters (2,722 feet), the glass covered giant sparkles in the mid-afternoon sun and lights up at night. The observation deck located on the 124th floor will reveal the magnificent panoramic view of the city. Tickets can be purchased online or at the ticket office downstairs.
Armani Hotel, also located in Burj Khalifa, is another popular tourist trap. Elegant, classy hotel designed by Giorgio Armani is worth taking a peak at. The AT.MOSPHERE restaurant on the 122nd floor is definitely more of an observation experience than a food fete. Make reservations way in advance and expect some minor trembling while walking from the elevator to your table. The mind-blowing view compensates for so-so food.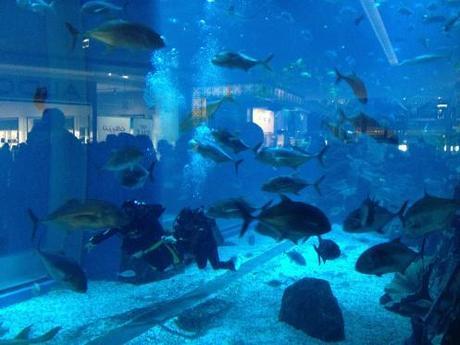 Aquarium in The Dubai Mall
The Dubai Mall, located downstairs, is the largest shopping center in the world. Not only does it offer hundreds of stores and restaurants, but also an indoor ski resort and ice-skating rink. Its aquarium is also pretty impressive. Watch fascinating sea creatures cruise around in a huge water tank, or buy a ticket and observe them fly above your head while walking in an underwater tunnel. The sharks are very frightening. You can also pay extra for a unique diving experience. (How cool would it be to get attacked by a shark in front of hundreds of witnesses?!)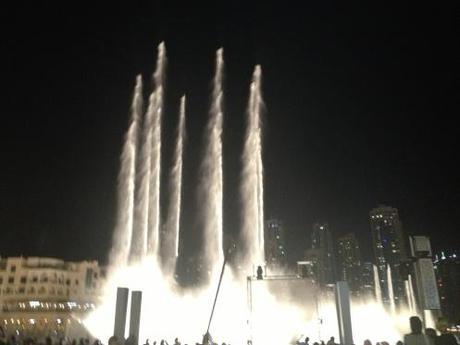 The Singing Fountain Show
Another captivating experience was seeing the singing fountain show next to The Dubai Mall. An amazing performance that is repeated every 20 minutes or so can be a perfect accompaniment to a lazy dinner at one of the multiple restaurants surrounding the pool.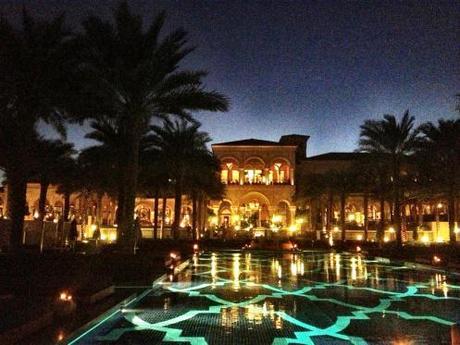 One & Only Resort
Be sure to check out the extravagant hotels and a beautiful marina of Palm Jumeirah, an artificial archipelago of man-made islands. Atlantis, Zabeel Saray and One & Only are perfects examples of how luxury has become a business card of Dubai. One & Only was my favorite. Even though it's a pretty posh resort, it also feels very cozy. It has a nice beach bar with an amazing view of the marina. It's needless to say that the prices are outrageous. My cocktail that consisted of champagne and strawberry puree was only $50.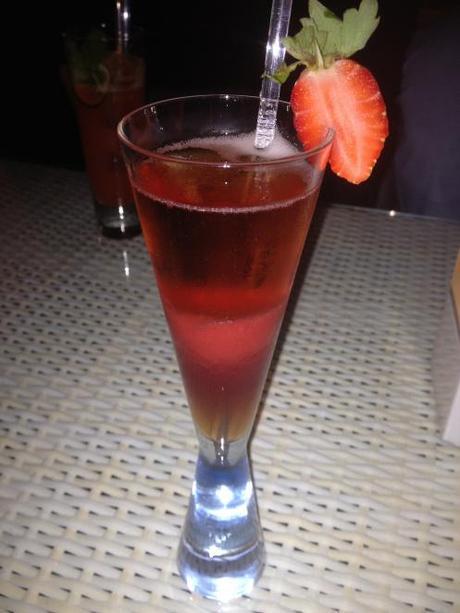 My $50 Cocktail
Eating your way through Dubai is another story. The city features some incredible restaurants – that I can't deny. My recommendations are listed below. But be aware that most of the restaurants don't allow young children, so consult with your concierge or call ahead to make sure you can bring your toddlers with you. Everyone speaks perfect English.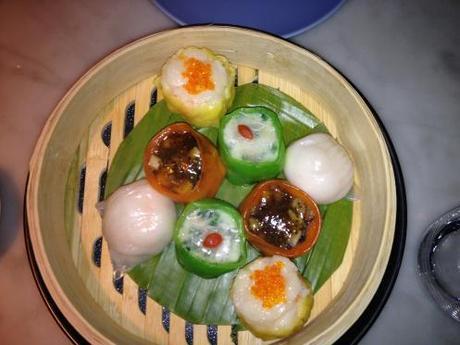 Dim Sum at Hakkasan Restaurant
Someone told me that Dubai's officials offer architectural firms all over the world to submit their boldest project ideas and if chosen, realize them on Dubai's land. And it's true – in Dubai, you can see the wildest, most twisted skyscrapers that stand by despite all gravitation laws. The city has two precise replicas of the Empire State Building, and to be honest, they look pretty modest and even dull among other outrageous architectural masterpieces.
The Palm Jumeirah Marina
But despite all that, Dubai might not be the city I would like to come back to. It's too "screamy" for me. It's trying a little too hard to impress you. It's like the Vegas of the Middle East: lots of lights but not too much depth to it. What I liked back in 2001 was its organic combination of modern facilities and a true Middle Eastern character. In 2012, I didn't see that many locals wearing dishdashas and abayas and didn't feel the mysterious vibe of the Arabian Peninsula. All I saw was very westernized. Multiple Cheesecake Factories and Starbucks shops made me wonder why one would ever want to sit through a 13-hour flight and travel across nine time zones to see a very Americanized city.
All in all, Dubai is very interesting. Some people worship it, some don't get it. I belong to the second kind, but I will let you make your own conclusion. After all, the purpose of that trip was to spend time with my family, which made those 26 hours of flying absolutely worth it!
Restaurants:
Hakkasan – a modern Asian fusion. Try the jasmin tea marinated short ribs and honey glazed Chilean sea bass
French restaurant at One & Only – try the three-course pigeon dish.
Pier Chic – amazing seafood and view.
Buddha Bar – good food and a funky atmosphere
Zuma – the best Japanese restaurant in Dubai!