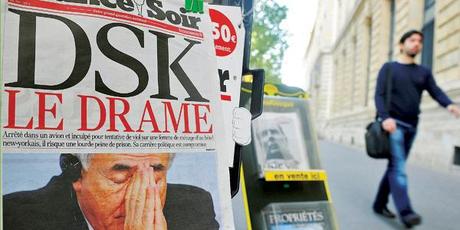 Unless you've taken to your fallout shelter in tepid anticipation of the national default – which has for the moment been averted – you've undoubtedly caught wind of the Dominique Strauss-Kahn maid bashing that has shot vitriol all over the court like a Sharapova tennis match.
Beneath the French public's unsurprising distaste for the impotence of the American justice system (and American noses turned up to sniff the dubious legal proceedings) lies oblique gender commentary.
Let's recap. During May this year DSK – until recently the managing director of the International Monetary Fund – checked into the swanky Sofitel hotel in New York City. A thirty-two year-old maid – Nafissatou Diallo of Guinea – alleged that she was assaulted upon entering the financial giant's hotel room in order to perform housekeeping duties. The next day DSK was detained and formally arrested by the NYPD on a hefty assemblage of assault and unlawful imprisonment charges. On May 19th, DSK was indicted before a grand jury and faced up to twenty-five years in prison, trial pending, and placed under house arrest. After the maid blew her credibility to hell by admitting that she had perjured herself before the grand jury, and had discussed the possible benefits of pursuing a case with her boyfriend. DSK resigned from his post at the IMF.
The next hearing is perpetually cycling through the calendar months, though it will likely lead to the dismissal of all charges.
Amid the uncertainty over the legal standing of both parties lies simmering bias: I need only sit at the table with my mother and my sister to listen to 1970s SCUM feminist drivel about DSK being a manipulative Machiavellian-archetype who took advantage of a poor immigrant woman who wouldn't be able to seek out help. French journalist Jean-François Kahn referred to the incident as un troussage de domestique, or the forced sexual submission of the help. Marine le Pen, the tête of le Front National (think Republican/Tea Party) deemed it a confirmation of DSK's pathological sex-mania.
DSK is between a rock and a hard place: to be acquitted would make everyone believe that the white-male sodality had turned a blind-eye to his sexual indiscretions, and dismiss it merely as a 21st century iteration of the droit de seigneur. But to convict would be a confirmation of everyone's darkest assumptions about the abusive sensibilities of monied men.
How is the maid fairing amidst the scandal? Well, following the revelations regarding the maid's credibility, the New York Post syndicated a headline proclaiming with puritanical panache: "DSK MAID A HOOKER."
She's in an equally precarious situation: dismissal of charges would make her out to be a gold-digging whore, but indictment would lead the real misogynists to criticize her for not staying in her place. the NY Post, the barometer of what people think but won't say, is of the opinion that she got greedy when she decided that prostituting herself with every change of sheets wasn't enough for her.
Whatever happens, both DSK and Nafissatou Diallo are absolute garbage in the eyes of America.
Are there precedents? Elliot Spitzer, Andrew Weiner, any number of priests, and myriad businessmen; I hope to abstain from perpetuating DSK-esque stereotypes so I'll stop there, but beneath the moralizing luster of American journalism is a unopened condom of wishful thinking. In France, it has long been a tradition to ignore the sexual indiscretions of politicians. François Mitterand had a jaw-loosening number of mistresses and even had a love-child whose identity was only revealed when journalists no longer feared Mitterand's political clout. Having lived in France, I've learned that Mitterand's extra-presidential dealings were amongst the worst best-kept secrets of his administration. Perhaps it goes back to the days of this aforementioned troussage, or the remaining seminal residue of noble/bourgeois hegemony.
The fact that we are able to be critical of both parties in this case is perhaps the result of several decades of pressing gender equality in America. Though we can assign this scrutiny to our city-on-the-hill ethics that are the building blocks of our nation, perhaps it is more of an indication of the leveling-out of men and women after centuries of inequity. Always the optimist, I think that this case, if anything, is actually an indication of female-empowerment, and new-found male sensitivity to social relations. Though it certainly won't help either DSK or the maid restore their reputations in the eyes of the public, at least we are in a position where neither party is inculpable. That is perhaps the greatest success of contemporary social justice: we do not deify the minister, nor do we unquestioningly emblazon our Jezebels with scarlet letters.
The legacy of decades of activism is our tendency to indiscriminately crucify everyone for their lack of human decency. That's not a bad deal: everyone should be held accountable, in daily life or in international news.
Alec A. also writes for his own blog, the BAM blog.