Have you heard of Fantasie Chocolates? I confess I hadn't until a wonderful invite landed in my inbox asking me would I like to come take part in a workshop about chocolate by the founder and creative head of Fantasie Chocolate - Zeba Kohli.
Would I? Of course! For a chocoholic like me, an opportunity to try out a new brand of chocolate is like an opportunity to try manna from heaven.
Zeba Kohli is an Indian chocolatier, philanthropist, and entrepreneur. Swiss-trained in a Cordon Bleu confectionery school, this is a woman who knows her stuff. She worked for Lindt Chocolates for many years before deciding to create her own chocolate brand - Fantasie Chocolate.
From Mumbai, she came down to Bangalore to showcase some of her delicacies to all of us, and to educate us a bit about quality chocolate, and what that term means in a market saturated with Cadbury's and Amul, and other such mass-market brands.
So how does Fantasie Chocolate stand out from the crowd?
To put it bluntly, I'd say the taste. Each and every chocolate she had us sample was delicious and unique in its own way.
Next up, I'd say the appearance of the chocolates. Although the chocolates we tasted were fairly basic looking, Zeba Kohli has some truly designer-looking stuff up her sleeve, as you can see from these photos of her products.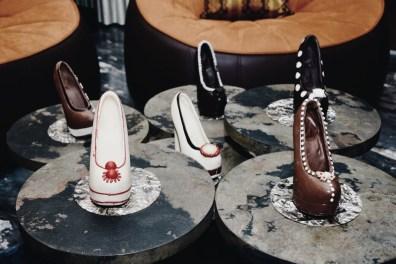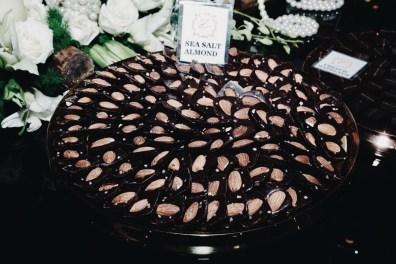 Third, I'd really like to talk about some of the unique flavors I tasted at the event. During the event, Zeba Kohli persuasively made us try different types of chocolate and guess at the ingredients.
Some of the chocolate flavors were easy to guess, but there was one that puzzled all of us. Tasting very, very Indian, surprisingly faintly turmeric, and a dash of something else, which we could just not identify.
Well, the mystery ingredient turned out to be sambar powder. Sambar chocolate. I'd never heard of that, and I bet you haven't either.
Apart from the sambar chocolate, we tasted other unusual flavors - such as chocolates with pumpkin seeds, sunflower seeds, sesame seeds (soo delicious!). I loved them all.
What I most loved though was Zeba Kohli's passion for chocolate.
Chocolate has to be warm and smooth. It has to melt on the tongue. It should be a full-bodied flavour, with just a hint of sweetness.
But I also really appreciated her down-to-earth attitude towards it. When one participant blurted out that her all-time favorite chocolate was the humble 5-Star, I held my breath waiting for a condescending put down from Kohli. Instead, she very graciously and somewhat sheepishly admitted that she too liked 5-Star, and Hershey's, and Mars bars, and the like.
A great attitude with a great product! I am convinced Fantasie Chocolates is only going to grow bigger and better.
For more information about Fantasie Chocolate, visit the website and online store. If you want to buy but not sure of any to pick, I'd highly recommend the 100% dark with dates bar. I am not a fan of dark chocolate normally, but I loved this combo of dark chocolate with dates providing it just the right amount of sweetness.
After the event, it was time for a quick lunch before the long-ish drive home. Lunch was catered by Olive Beach and was very good. Unfortunately, I was too stuffed from all the chocolate, so I made it a light lunch of aglio olio spaghetti with some lemon tea, before I called it a day.
Oh! and a word about the location of the event. It was held in the clubhouse of Phoenix Kessaku, a new apartment complex being launched in North Bangalore, bang opposite the happening Orion Mall. I was a little surprised at first about the place, usually such a tony event would be conducted in a fancy restaurant. But the people from Phoenix Kessavu beg to differ with that opinion.
We don't just believe in selling a home, we also believe in creating experiences that one can cherish and today, we have created one such special experiences for our clients.
See video to know more about Phoenix Kessavu's attitude to homes.
Not just selling you a home at #phoenixkassaku selling you a whole new way of living #fantasiechocolates #zebakohli pic.twitter.com/Dbig8qNFBX

- Nishita (@nishmvk) March 11, 2017
About Phoenix
Phoenix Kessaku comes in the wake of unparalleled success of Phoenix One Bangalore West. Phoenix Kessaku, is an exemplification of the idea of simplicity in complexity, allowing subtle and complex details, textures to exist in a balance of beauty and purpose. The Phoenix Kessaku precinct offers expansive living spaces ranging from 6,200 square feet to 7,500 square feet and by-invitation-only duplex in five exclusive towers. Phase 1 of the project is nearly sold out and the limited balance stock currently trades at Rs. 17,500 per square feet. The project is also considered as the fastest upcoming residential development in Bangalore with Phase 1 expected to be completed by end-2018.
Weekend cooking is a meme hosted by Beth Fish Reads. It is open to anyone who has any kind of food-related post to share: Book (novel, nonfiction) reviews, cookbook reviews, movie reviews, recipes, random thoughts, gadgets, fabulous quotations, photographs.

If your post is even vaguely foodie, feel free to grab the button and link up anytime over the weekend. Please link to your specific post, not your blog's home page. For more information, see the welcome post.