Women adore the idea of shopping for new dresses, trying out the latest styles and dressing up like a princess for special occasions. The same is true in case of little girls who look amazingly adorable when dressed up in lace dresses. Choosing dresses for kids for special occasions is an exciting activity most moms take pleasure in. Any mom would love to see her little girl dressed up like a doll. So, let us talk about the latest fashion trends for kids.
Lace dresses for girls are in vogue this season. The markets are flooded with hundreds of designs of cute lace dresses to choose from. Lace dresses for kids are designed keeping in view the comfort needs of a child. They are chic, extremely versatile, and delicate adding a hint of sophistication to the aura of your little angel. Your little girl can wear laces dresses to a number of events such as birthday parties, formal and casual events as well as weddings.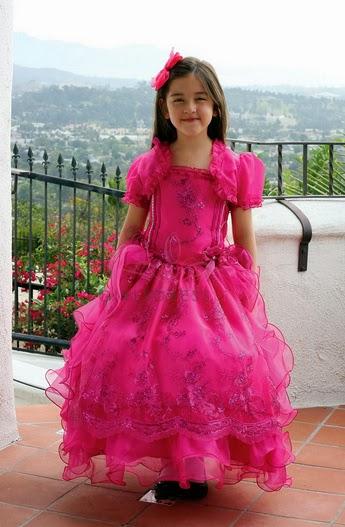 Picture Source : www.girlsdressline.com
Designs and Material

Lace dresses are available in an impressive range of designs, patterns, colors and sizes. These are often made out of cotton laces and are coupled with other fabrics like satin and organza. You can find elegant lace dresses that have been adorned with floral embroideries. Some lace dresses are decked with stylish patterns of sequins for a shimmery look. A satin sash only adds to the glamour of a lace dress. Laces add a charm to almost every fabric they are paired with. Laces dresses also come in velvet having an overlay of embroidered lace.
Laces dresses for little girls are usually tea length. Some lace dresses come with an integrated crinoline that gives a graceful voluminous look waist down. Kids have a delicate skin and constant friction with the lace can cause skin irritation. Hence, lace dresses are lined from the inside with a smooth and soft fabric for a comfortable wearing experience.
The Versatility of Lace Dresses
As mentioned earlier, lace dresses are extremely versatile make for an ingenious choice for your kid on any special day. The can be accessorized with matching jewelry and shoes. A petite and shimmering bracelet bedecked with jewels would perfectly complement your little girl's lace dress. Pair it up with delicate party ballerinas and see the magic!
A red lace dress would be suitable for your kid to wear on occasions such as a birthday party. If you have a formal event to attend, take your girls along as they are dressed ladylike in black lace dresses. White lace dresses with floral needlework and satin bodice would make for an excellent flower girl dress. Team it up with a satin hair bow and party ballerinas of a color that you think would give a brilliant contrast. A basket of flowers and your flower girl is ready to walk down the aisle alongside the bride.
Wash care of Lace Dresses
Lace dresses meant for little girls should be handled with care. It is advisable to wash them with hand using a gentle detergent rather than tossing them into the washing machine. Allow them to drip dry. Wrenching and squeezing the water out of the dress is not a good idea as it causes damage to the delicate lace structure.
Lace dresses are indeed a divine creation of the fashion enthusiasts. They would certainly make little girls look heavenly and gorgeous.