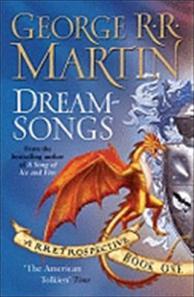 Dreamsongs: A Rretrospective Volume 1 by George R R Martin
Gollancz (paperback), 2006
656 pages 
http://en.wikipedia.org/wiki/Dreamsongs:_A_RRetrospective
BLURB FROM THE COVER 
This is a massive collection of the best of George R.R. Martin's short fiction, containing 32 short stories and novellas, including the Hugo-winning 'A Song for Lya', the Bram Stoker-winning 'The Pear-Shaped Man' and 'The Skin Trade', which won the World Fantasy Award and is generally acclaimed as the finest werewolf story of our time.  
As well as the stories themselves, which span Martin's multi-faceted career, there are two television scripts, voluminous author commentary, an introduction by award-winning editor and writer Gardner Dozois and a comprehensive bibliography.  
This must-have volume by one of the brightest stars in the field of imaginative fiction. 
EXTRACT 
Darkness. Everywhere there was darkness. Grim, foreboding, omnipresent; it hung over the plain like a great stifling mantle. No moonlight sifted down; no stars shone from above; only night, sinister and eternal, and the swirling, choking gray mists that shifted and stirred with every movement. Something screeched in the distance, but its form could not be seen. The mists and the shadows cloaked all.
ONLY KIDS ARE AFRAID OF THE DARK 
REVIEW 
George R R Martin is a writer I've always wanted to read more of but have never gotten around to. Years ago, at least ten I read his novella The Skin Trade in an anthology and it blew my mind. I've read none of his work since. There were always other books and writers that caught my attention. I bought both volumes of Dreamsongs because volume 2 contains The Skin Trade. I also have his A Song of Ice and Fire series to work through at some point.
Dreamsongs Volume 1 may be the strongest collection of short stories I've ever read. There were no weak stories in this collection. I don't think I've read a collection of stories where there isn't at least one dud. Not the case with Dreamsongs Volume 1. Every story was great. The stories in Dreamsongs Volume 1 cover the genres science fiction, fantasy and horror. I'd say science fiction stories are not really my thing but some of Martin's best in Dreamsongs Volume 1 are science-fiction. Martin just writes like no one else.
There might be no duds in Dreamsongs Volume 1 but there are a few stories that shine a little brighter than the others. The Exit to San Breta is horror / science fiction cross over. A science fiction ghost story if you like. I thought this was a great little story. A Song for Lya is a brilliant fantasy tale. It's also sad and very creepy and unsettling. I loved it. I thought The Lonely Songs of Laren Dorr was a great tale. Well written and engaging. A fantasy / science fiction hybrid. Sandkings is the stand out tale in Dreamsongs Volume 1. It may be the best short story I've ever read. Sandkings is a science fiction / horror hybrid. The story is well-written, engaging and creepy as hell. The Monkey Treatment is different than the other stories in Dreamsongs Volume 1. I thought it was hilarious as opposed to creepy and unsettling. I loved it.
The stories in Dreamsongs Volume 1 are split into sections (i.e. A Four Colour Fanboy). Each section groups together stories from a particular phase in Marin's career. Martin introduces each section with some insight into that particular phase in his career and the stories included in the section. I really enjoyed reading these. I find it fascinating when writers talk shop.
RATING