I have a pleasure meeting for the first time Vivienne at upward spiral women Friday morning network. Again my intuition was right, she is a warm and open person. Her wise and descriptive messages, exchange while I was facing some personal issue was a great support – thank you for that Vivienne…
Name:               Vivienne McAlister-Geertz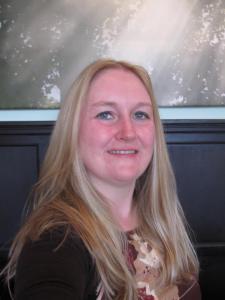 Country/City:    The Netherlands / Weesp (Born: N Ireland/Coleraine)
What is your dream?
I have 3 dreams and have (sort of) achieved 2 of them so far:
1. Go to Base Camp Everest – I achieved this goal back in October 2005….. what an adventure!
2. Winter-over at the South Pole. I haven't achieved this dream yet…. At one stage I considered training as a forklift driver as they were in demand at the South Pole but I never got a chance….. maybe someday.
3. Husky-mushing. I would love to go on a husky-mushing adventure – out in the middle of the Nordic snowy wilderness. I got a taste of husky-mushing while on honeymoon recently (we went on a short safari) and it has now really whetted my appetite for more.
What is my dream job?
As a child my dream job was to be Wonder Woman. Since being diagnosed with Crohn's Disease in 2006 I dreamt of a job which would be less stressful and which would enable me to follow a better and healthier quality of life, forcing my disease into remission.
How did you achieve your goal = dream job? / how do you plan to achieve your goal=dream job?
While still working in the finance department for a large American corporation where stress was a daily factor of life and where my health was steadily declining, I started to dabble in a variety of courses such as Relaxation Therapy, Stress Management, even some Reflexology to try to find the new direction that 'felt right'. All I knew at the time was that, in order to get my health back, I had to turn my back on a career in finance. By chance (I do not know how it actually happened) I found a beauty course on the internet and decided to give it a go. After the second course I was hooked and knew that making body products was what I wanted to do. Since I left the corporate world in September 2011 and opened my boutique in Weesp in December 2011, my health has taken a turn for the better and I would say my disease is in remission.
What is your tip to others concerning the Dream Job / Life?
Find something that makes you feel complete and you enjoy doing. It can be something completely new. Then look for a slightly different take on it. For example I handmake all my products in my shop kitchen so customers can see that my products truly are handmade.
Tell everyone you know what you're going to do – that way your pride will get in the way and you'll strive forward to make it happen instead of letting fear of the unknown take control and stopping you.
Just do it. Perhaps your business will not succeed. But you will have learnt so many new skills, grown so much, and achieved more than you could have thought possible by putting your heart and soul into something that very few people have the guts to do.
Who are you?
Now that's probably the most difficult question you can ask someone. I guess you could say I consider myself to be an incredibly fortunate person:
I have an incredibly loving and supportive family who encourage me to achieve my highest potential but also understand my need for health and happiness.
I have met and married the most patient and caring man I could ever dream of. We met when my Crohn's was at its worst and a real 'disability' to normal everyday life. His patience and understanding towards a disease he clearly couldn't personally comprehend was staggering.
I am thankful for having Crohn's as, without it, I would still be stuck in the corporate world in a job I hate, working in an unhealthy atmosphere enveloped in bullying and unreasonabe demands and deadlines, too scared to leave incase I wouldn't survive outside the corporate world. Crohn's has opened my eyes and (ironically) set me on a path of health and happiness. And it has taught me that I am actually an incredibly tough and resilient individual. www.simplyskin.eu