I have met Alfredo at one of BNI breakfasts in nice surroundings and sea view in Kurhaus Hotel in Scheveningen. Since than from time to time I am Alfredo's replacement at BNI meetings. Even though we have mutual interest in salsa unfortunately we have not had a chance yet to see who is better in

Name:    Alfredo S. Blanco Contreras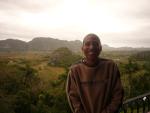 Country / city:       Cuba/Pinar del Río
What is your dream? 
My dream is to know the world and have as many friends as possible; friends I can share ideas and experiences with, friends I can always count on.
What is my dream job?
My dream job is the one  that keeps me happy and satisfied, no matter if I earn much or little.
How did you achieve your goal = dream job? / how do you plan to achieve your goal=dream job?
I have always done the jobs I have liked./I will keep doing what pleases me from a professional and spiritual viewpoint.
What is your tip to others concerning the Dream Job / Life? 
Never give up and keep fighting for what you believe: the answers may be closer than you think.
Who are you?
I am the owner of Frei Translation Services, a company that provides English-Spanish/Spanish-English translations, proofreading services and Spanish lessons. I am a passionate and easygoing Cuban that is in love with life. www.frei-spanish-translations.com
 Coordinated by Dream Job Diva