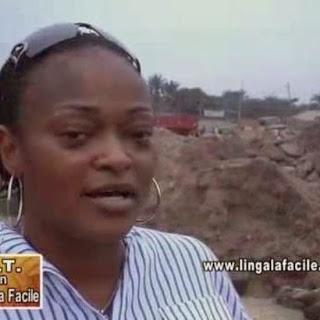 (PHOTO: MP Wivine Moleka, Vital Kamerhe's erstwhile buddy turned foe)
***
1) Tshisekedi scraps trip to the US 
Radio-Trottoir has downgraded "President" Etienne Tshisekedi from mercurial maverick to shameless liar. 
And people are wondering why the one his supporters have nicknamed the Sphinx doesn't live up by his moniker and not bother anyone any longer with his serialized empty party communiqués.
The case in point is his trip to the US, billed by his press release as a "prayer and work visit" in the US, but which has now turned out to be an abortive attendance at the 62nd National Prayer Breakfast held in Washington on Thursday, February 5.
No one knows who might have invited Tshisekedi at the event and why he'd chosen to cancel the trip and to send instead Albert Moleka, his chief of staff.
Why Tshisekedi chose to publicize his trip in the media in the first place is anyone's guess.
***
2) MP Wivine Moleka v Vital Kamerhe Case
The prosecutor in the MP Wivine Moleka v Vital Kamerhe case requested a prison term of three years for defendant Kamerhe in his closing statement on Tuesday, February 4. The court has taken the prosecutor's request under advisement and will issue its final ruling shortly.
Kamerhe ripped the prosecutor's closing statement and said he was quite "surprised" by the needless "politization" of the case while an out-of-court amicable settlement, proposed by MP Moleka was agreed upon by the parties and a sum of $7,000 paid to the accuser.
The politization, according to Kamerhe, is designed to sideline him in the presidential election of 2016.
But Moleka's lawyer, Gérard Ledi Mukoko, at a presser held two days earlier, claimed the monetary compensation isn't enough. He insisted that anything short of a public apology "through the same venues" Kamerhe used to libel MP Moleka won't do.
I had occasion to comment on the long-drawn judicial battle pitting Vital Kamerhe against pro-Kabila MP Wivine Moleka (the sister of Tshisekedi's chief of staff, Albert Moleka) on this blog in 2012 here:
(http://alexengwete.blogspot.com/2012/04/obfuscation-of-sexist-pig-called-vital.html?m=1)
But to sum up:
In the throes of the contentious general elections of November 28, 2011, presidential contender Vital Kamerhe, in order to illustrate what he claimed to be the massive vote rigging orchestrated by the Kabila camp, gave the example of his own erstwhile buddy and political ally, MP Wivine Moleka, who was running on the list of Kabila's PPRD party in in the Lukunga constituency of Kinshasa.
Not content with publicly accusing Moleka on national television of vote rigging and voters intimidation in the Mbudi precinct of Kinshasa, Kamerhe then reiterated his unsubstantiated charges in a damning letter sent to a slew of diplomats accredited to Kinshasa as well as to local and international media.
Kamerhe's letter stated in part:
"At Mbudi, a Kinshasa suburb in the Mont-Ngafula Commune, with an escort of cops carrying ballot boxes crammed with ballot sheets, Honorable Moleka showed up with a large sum of money she then proceeded to distribute to election officials. Outraged, the population chased her down and her bodyguards reacted by firing in the air to disperse witnesses. Consequently, the population decided not to vote and voting stations were shuttered."
Now, as it turned out, MP Moleka, who was tailed by the media all day long on election day, was nowhere near the Mbudi precinct.
Still, Kamerhe's refusing to apologize and is even daring the court to throw him in jail.
***
PHOTO CREDITS: via Facebook page of Wivine Moleka