'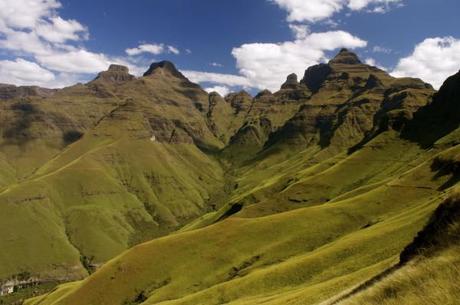 The Drakensberg, "Dragon Mountains" is not only the highest mountain range in S. Africa, but all of southern Africa,  reaching heights up to 3482 meters.  It is a hiker's paradise with sandstone cliffs, pinnacles and with nearly 98% of its plant species endemic or almost endemic.  The Drakensberg is simply stunning and one of the most beautiful places I've ever hiked!  No wonder it is a UNESCO World Heritage Site!
We hiked to Orange Peel Gap, a 5 hour+ hike which offered views over the Drakensberg: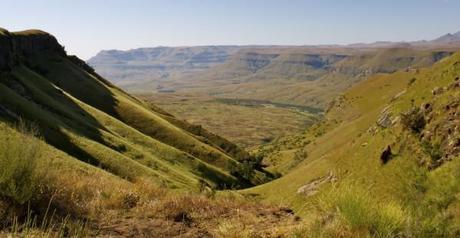 View of the sandstone cliffs in the Drakensberg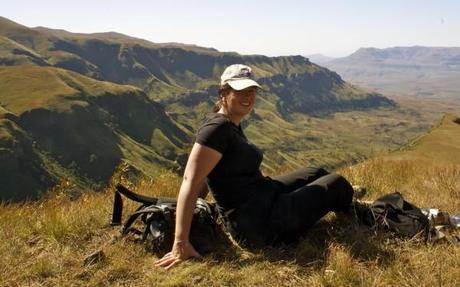 Enjoying the views in the Drakensberg.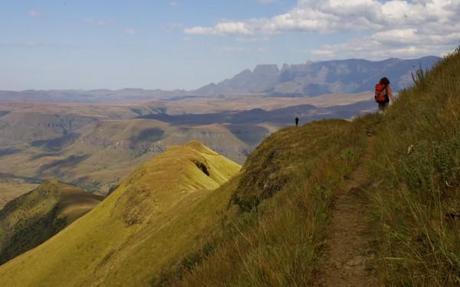 The hiking trail to Orange Peel Gap offers amazing views throughout the entire hike!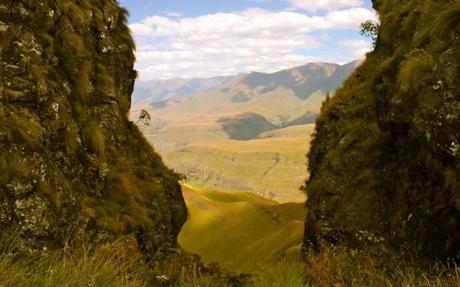 View from Orange Peel Gap - worth the effort!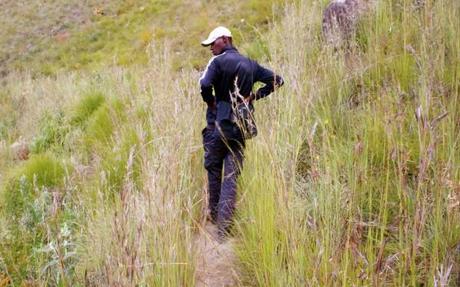 The open trail ensures stunning views for the entire hike to Orange Peel Gap.
Hiking to Orange Peel Gap requires a guide, which can be arranged through Didima Chalets.  Wiseman, was our local guide from a nearby Zulu Village which we had visited the day before.  I would have hated him for barely breaking a sweat while I was soaking wet but he was so nice – even if he thought my husband had gotten a bad deal by marrying me since he does the laundry!
But my favorite views weren't looking outwards, but rather upwards, towards the famed Cathedral Peak, a popular but very strenuous, 10 hour hike that I'm saving for my next visit: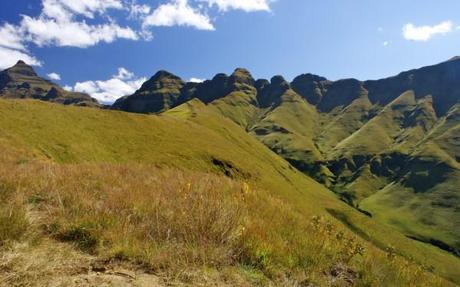 The majestic peaks in the Drakensberg - some seriously beautiful mountains!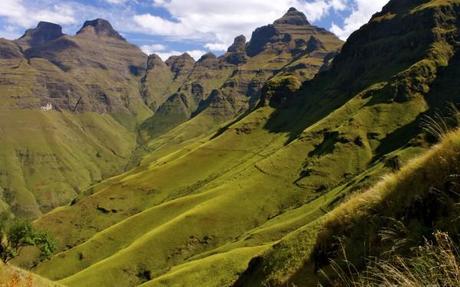 View of Catherdral Peak, a famous mountain in the Drakensberg.
I've done a lot of hiking, but the Drakensberg is one of the most beautiful places I've ever hiked.  I've already got my next two hikes planned out for when I return!  Besides I've never had a return welcome  like the one I received when I wearily returned to Didima Chalets, -  a troop of baboons, including this adorable baby baboon!  Suddenly I was no longer tired as I snapped over 300 photos of the baboons.  My sore muscles could be attended to later!  Besides, I had another hike to plan – Cathedral Peak here I come!
Know Before You Go Hiking in the Drakensberg:
The best time to go hiking in the Drakensberg according to our guides is in April and May, which is fall.  Temperatures are cooler, but not too cool and except for the Easter weekend, it's not likely to be overrun with tourists.
The Drakensberg receives snow in winter (June – August).  Hiking is still possible, but  check the weather conditions before you go so that you bring the appropriate clothing.
Many hikes (including Orange Peel Gap and Cathedral Peak) can only be hiked with guides for safety reasons.  Didima Chalets can arrange for a guide, or ask for Wiseman, who works as a private guide (he has a cell phone but no website)
The #1 hike that Wiseman (our guide) recommended in the Drakensberg is Mushroom Rock for its scenery, caves and chance of seeing wildlife (baboons and elan – no lions – don't worry!)
Contact the South Africa Tourism Site (in German) or the South African Tourism Site (in English) for more info on hiking and accommodations in the Drakensberg.

View Cathedral Peak in a larger map
This post has been submitted to Nancie at Budget Travelers Sandbox and to Delicious Baby where you can see more travel photos.
Disclosure:  I was a guest of South African Tourism, but all opinions expressed as always remain my own.