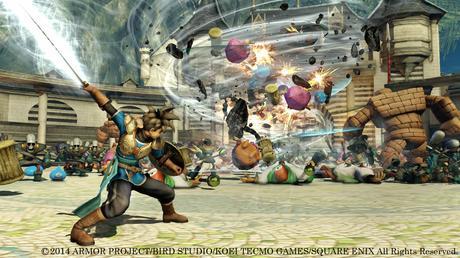 The PlayStation 3 and PS4 skus for Dragon Quest Heroes were the top sellers on the Media Create charts in Japan, moving a combined 594,749 units.
Elsewhere on the chart, The Legend of Zelda: Majora's Mask 3D was in third place with 39,751 units moved, and last week's top seller, God Eater 2: Rage Burst, was fourth with 37,650 units sold.  PlayStation 4 moved 46,139 units compared to 24,737 the prior week, and PlayStation Vita was second, despite a rather notable week-over-week decline.
Wii U sales were up slightly as were units sales of the original 3DS. New 3DS LL, New 3DS and 3DS LL also saw a decline.  Xbox One sales came in at 703 compared to 1,381 last week.
Both charts are below
courtesy of Gematsu
.
Software chart for February 23 – March 1 (followed by lifetime sales)
[PS3] Dragon Quest Heroes (Square Enix, 02/26/15) – 325,446 (New)
[PS4] Dragon Quest Heroes (Square Enix, 02/26/15) – 269,303 (New)
[3DS] The Legend of Zelda: Majora's Mask 3D (Nintendo, 02/14/15) – 39,751 (341,997)
[PSV] God Eater 2: Rage Burst (Bandai Namco, 02/19/15) – 37,650 (271,829)
[3DS] Yokai Watch 2: Shinuchi (Level-5, 12/14/14) – 16,443 (2,513,906)
[3DS] Pokemon Omega Ruby / Alpha Sapphire (Pokemon, 11/21/14) – 12,680 (2,537,857)
[PSV] Yuki Yuna is a Hero: Memory of the Forest (FuRyu, 02/26/15) – 10,622 (New)
[PS3] Dragon Ball Xenoverse (Bandai Namco, 01/29/15) – 8,249 (81,087)
[3DS] Super Smash Bros. for Nintendo 3DS (Nintendo, 09/13/14) – 8,159 (2,165,812)
[3DS] The Seven Deadly Sins: Unjust Sin (Bandai Namco, 02/11/15) – 7,631 (42,869)
[3DS] Monster Hunter 4 Ultimate (Capcom, 10/11/14) – 7,595 (2,485,659)
[PS4] God Eater 2: Rage Burst (Bandai Namco, 02/19/15) – 7,405 (45,229)
[PSV] Diabolik Lovers: Dark Fate (Idea Factory, 02/26/15) – 7,263 (New)
[PSV] Parfait (TGL, 02/26/15) – 5,697 (New)
[PS3] Samurai Warriors 4-II (Koei Tecmo, 02/11/15) – 5,008 (58,518)
[PS4] Dragon Ball Xenoverse (Bandai Namco, 01/29/15) – 4,995 (59,438)
[Wii U] Super Smash Bros. for Wii U (Nintendo, 12/06/14) – 4,936 (597,730)
[3DS] Animal Crossing: New Leaf (Nintendo, 11/08/12) – 4,917 (3,928,335)
[Wii U] Mario Kart 8 (Nintendo, 05/29/14) – 4,898 (925,990)
[PS4] The Order: 1886 (SCE, 02/20/15) – 4,840 (29,863)
Hardware Sales (followed by last week's sales)
PlayStation 4 – 46,139 (24,737)
PlayStation Vita – 23,619 (35,203)
New 3DS LL – 22,620 (23,466)
PlayStation 3 – 8,926 (5,810)
New 3DS – 8,515 (8,657)
Wii U – 6,606 (6,070)
3DS – 2,795 (2,707)
3DS LL – 2,666 (3,343)
PlayStation Vita TV – 838 (731)
Xbox One – 703 (1,381)