I've been fortunate enough to see True Blood cast members at several events this year.  Each experience has made me love the show more than the last and only deepened my respect for all of the actors. That being said, I've never met any of them because the events were such that it wasn't possible. But on the first day of Dragon Con 2011, everything changed.
After seeing the True Blood panel and another panel Charlaine Harris was on, my companion Shannon and her husband Dave took me down to the Walk of Fame where attendees can meet all of the celebrities who have come and get autographs and pictures with them. I thought we would simply walk around, see where their tables were, and I would come back when I had a plan. I've spoken with other cast members for interviews,which can be found here. So I wanted an experience like that.
No such luck. Instead I was thrown in head first by Shannon to meet Jim Parrack  (Hoyt Fortenberry). He was extremely nice and I found him to be very thoughtful about his character in the True Blood panel which I will post about later. I was nervous but I managed to tell him about the site and that we write about him a lot and that I enjoyed his work.
Joe Manganiello (Alcide Herveaux) was up next and he was also very gracious. I did better with him thankfully and was able to tell him about the site and that I appreciated his work.
Denis O'Hare (Russell Edgington) will be at Dragon Con, starting on Saturday.
We made it around to Kristin Bauer van Straten (Pamela Swynford de Beaufort) last because we managed to miss her as we came in.  I told myself to be calm, cool, and collected. But really, who was I kidding? I was more nervous than I've been in recent memory. I love Pam and her relationship with Eric (Alexander Skarsgård) and have ever since season 3 when Pam and Eric have the quiet, emotional scene in Everything is Broken.  As much as I love her character, I like Kristin even more for many things that would take too long to explain.
I should say now that while I flew in from California to cover True Blood at Dragon Con, I was secretly hoping to be able to say hi to Kristin. When I went to the True Blood panel at PaleyFest 2011, I did get to speak to her briefly but I was stuck in a crush of fans and I wanted to meet her properly.
But because I hadn't planned on doing this yesterday, I tried to get Shannon to leave it until I wasn't so nervous. She didn't listen.
I had no choice but to go up and introduce myself, thankful that I could at least say that she knew me from her Twitter. Unfortunately, my brain was still not working like it should have. So I told her about the site and that I write about her a lot and think she's awesome. She graciously signed a photo for me and I said I'd see her in the True Blood panels Saturday and Sunday before I departed.
I turned around and walked a few feet away to collect myself. Then to my horror, I started to cry. I HATE crying in public. I prefer to do so behind closed doors or in a dark movie theater where no one can see me.  After a  minute I got a hold of myself and left with Shannon and Dave.
But that wasn't all. While I was busy being shocked out in the lobby of the ballroom, Shannon went back in to see if another actor was back at their table. Unbeknownst to me, she stopped by Kristin's table to thank her for speaking with me and signing the photo on the way out. When Shannon came back out, she told me that Kristin wanted me to come back for a picture.
We went back in and waited for the people ahead of us to have their time with Kristin before I went to have my picture taken.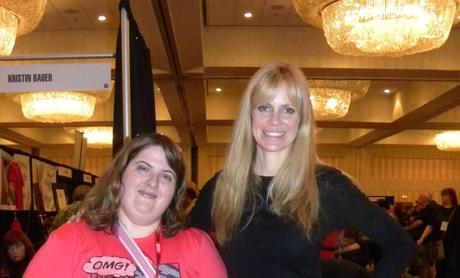 Kristin Bauer van Straten and Shanea O'Connor, Dragon Con 2011, Day 1
Being a writer you would think I would have many words with which to describe this moment. But I have just two; Thank you.
Thank you Shannon for making me do this even though I was nervous. And thank you Kristin for being the completely awesome and wonderful person that you are.
Image Credit: True Blood Fan Source.com