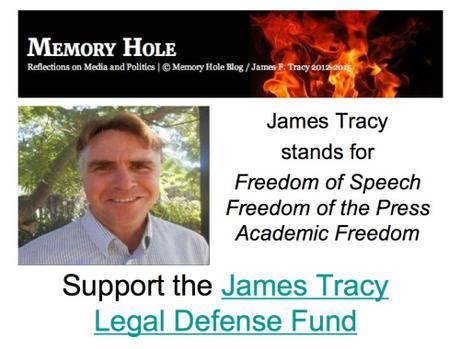 18 days ago, on January 25, 2016, warrior for Sandy Hook truth Dr. James Tracy announced on his Memory Hole Blog the instauration of the James Tracy Legal Defense Fund.
The purpose of the James Tracy Legal Defense Fund is stated as follows:
Academic freedom and free speech are the basic and shared tenets of free and democratic societies. On January 6, 2016 Florida Atlantic University terminated Dr. James Tracy's tenured position as Associate Professor of Journalism and Media Studies, ostensibly for failing to fill out and file paperwork in a timely manner. Tracy began his employment at FAU as Assistant Professor in 2002, and was granted tenure in 2008. His 13-year record of teaching, research, and service-oriented contributions at the South Florida university has been consistently adjudged as excellent by his peers.

Many observers contend that Tracy's firing stemmed from his articles and commentary made on his personal blog, Memory Hole, interrogating the Sandy Hook Elementary School massacre of December 14, 2012 and similar controversial events. Beginning in early 2013 Dr. Tracy became a target of many mainstream journalistic outlets that have routinely failed to provide objective and responsible investigative coverage of such incidents. Dr. Tracy's abrupt termination suggests a broader affront to free speech and academic freedom not only at FAU, but for free thinkers throughout the US and world.

The James Tracy Legal Defense Fund was established as a nonprofit entity by Dr. James Tracy and other concerned scholars in January 2016. The central purpose of the Tracy Legal Defense Fund is to generate revenue toward retaining competent legal representation for researching and ascertaining the facts pertinent to Dr. Tracy's case.
Florida Atlantic University first moved to terminate tenured professor Tracy on December 16, 2015, less than a week after the (Florida) Sun-Sentinel published an op/ed by Lenny and Veronique Pozner, parents of alleged Sandy Hook child victim Noah.
But Dr. Tracy's legal defense effort is now blocked.
Tracy received a letter from the Florida Department of Agriculture and Consumer Services (FDACS), dated February 1, 2016, that FDACS had "received information" that Tracy may be in violation of a Florida law, Solicitation of Contributions Act, because he had not registered with the FDACS "prior to soliciting contributions from the public in Florida." Failure to comply with that law may subject Tracy "to a cease and desist order and fines up to $1000 per violation."
Fellowship of the Minds, therefore, is stepping into the breach.
Please consider donating to the James Tracy Legal Defense Fund, no matter how small a sum, if only to send a message to Tracy that he is not alone in this fight. The editors and contributors to the Amazon-banned book, Nobody Died at Sandy Hook, are donating their royalties to the fund, totaling $3,000 to date.
There are three ways you can donate:
By sending a check.
With your credit card.
Via the Fundly Campaign.
To donate, click here.
Thank you for your support and generosity.
See also:
Parents of alleged Sandy Hook victim want Professor James Tracy to lose his job

Sandy Hook Massacre: Three Years of Subterfuge and Fraud

Letter to Sun-Sentinel in defense of James Tracy

Prof. James Tracy harassed with threats, email hack & obscene post card

Hate mail, death threats sent to Prof. James Tracy for being a Sandy Hook skeptic

PayPal shuts down Dr. James Tracy's Memory Hole Blog account

The curious parents of Sandy Hook child victim Noah Pozner
There's an iPetition calling for an independent investigation into Sandy Hook. Please consider supporting the Sandy Hook Petition for an Independent Investigation. To sign the petition, click here.
~Eowyn