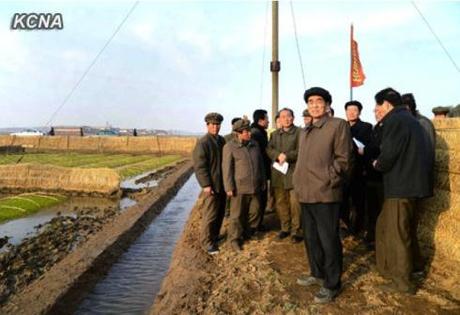 DPRK Cabinet Premier Pak Pong Ju (2nd R) tours an agricultural site in South Hwanghae Province (Photo: KCNA)
DPRK state media reported on 23 April (Tuesday) that DPRK Cabinet Premier Pak Pong Ju visited agricultural sites in South Hwanghae Province and the Kim Jong Suk Textile Mill.  Pak's visited the Kim Jong Suk Textile Mill in east Pyongyang where he "learned about the modernization" of the mill, according to KCNA.  Pak also visited Haeju, provincial capital of South Hwagnhae, where he toured a fertilizer factory and greenhouse.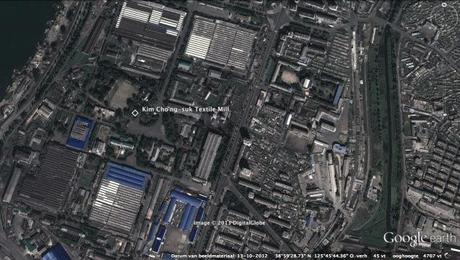 View of Kim Jong Suk Textile Mill in east Pyongyang (Photo: Google image)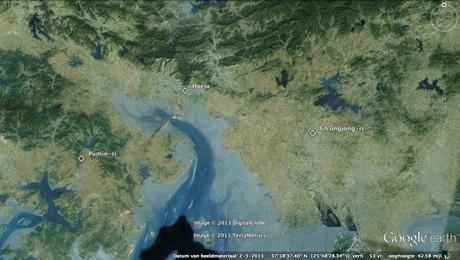 View of communities in South Hwanghae Province visited by DPRK Premier Pak Pong Ju (Photo: Google image)
Pak Pong Ju also visited Chongjong Cooperative Farm in Ch'o'ngdan County and the Pumin Cooperative Farm in Kangryo'ng County "where the farmers are all out in farming in the spirit of the March, 2013 plenary meeting of the Central Committee of the Workers' Party of Korea."  According to KCNA Pak "encouraged the agricultural workers who are making efforts to raise good crops to suit to the characteristics of each land and each area and according to the crop growth conditions, standing the bad weather" and "stressed the need for the farms to introduce the advanced farming method and display the advantages of sub-workteam management system, adding that it is a firm resolution of our party to solve the food problem of the people."  Pak held a meeting with provincial officials and agricultural employees at which he "noted that the officials and other people in the agricultural field should boost their responsibilities and roles as the master of farming, bearing in their minds the continued devotion made by the great Generalissimos Kim Il Sung and Kim Jong Il to improve the people's standard of living."  The meeting also addressed "issues of producing much organic manure of good quality and fertilizing fields and the issues for relevant units to help the socialist rural countryside materially and technically."
Pak's visit to the textile mill and his tour around South Hwanghae Province marked his first inspection tour since his reappointment as DPRK Premier (he previously held the job from 2003-2007) at the 7th session of the 12th Supreme People's Assembly on 1 April 2013.  Pak is maintaining the same public profile as his predecessor, Choe Yong Rim, who conducted dozens of inspection tours of economic sites in the DPRK and held many meetings with local officials.
Filed under: Central Committee, central party life, chemical facilities, Choe Yong Rim, critical infrastructure, DPRK Cabinet, DPRK Premier, food production, Guard Command, Kim Family, kim jong suk, Kim Jong-il, KKH, Korean Workers' Party (KWP), local people's committees, March 2013 KWP Central Committee Meeting (plenary session), Ministry of Food and Procurement, Ministry of Land and Environmental Protection, North Korean press, Pak Pong Ju, Political Bureau, Provinicial People's Committee, rural management committees, South Hwanghae KWP Provincial Committee, South Hwanghae Provincial People's Committee, Supreme People's Assembly