This week forced us to come to terms with the horrible, horrible event of last week's episode. Downton Abbery Series 3 Episode 6 certainly was still somber, but little bits of good news and light hearted flirting got us through. Helping the situation was the serious and seriously stylish mourning jewelry the ladies of Downton wore this week. While everyone is still very, very sad the amazing jet jewelry and black velvet flapper ensembles let us know that our stylish aristocrats are still underneath all that black.
Edith's jet necklace

All the Grantham/Crawley ladies wore impressive long, jet bead necklaces in this episode. It was interesting to see the straight up Victorian way that Granny wore hers (complete with Victorian brooch) and the understated styles of Cora's and Mary's likely more modern necklaces. Edith's had the 20′s era details like fringe on hers, so naturally she was our favorite.
Cora's Black Briolettes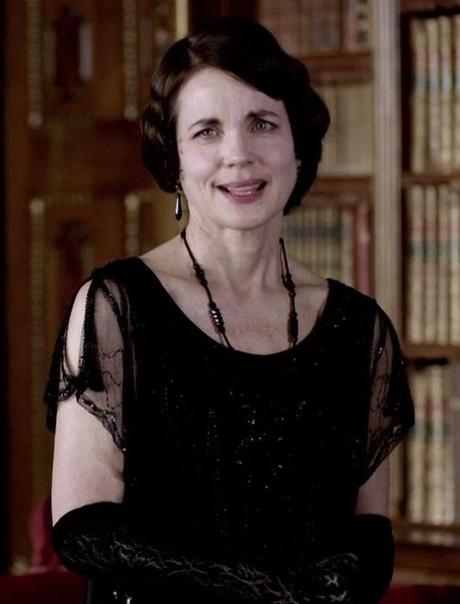 via Grande Caps
Cora's aforementioned lovely necklace played nicely with these black briolette drops she's wearing. We're assuming, based on Cora's status and wealth, that they're genuine jet, possibly onyx – not French Jet (glass) or Vulcanite. Her 20′s style mourning outfits are tragically beautiful, and while Cora's youth wasn't spent in Victorian England, the mourning fashions were popular in the US too.
Mary's Jet Necklace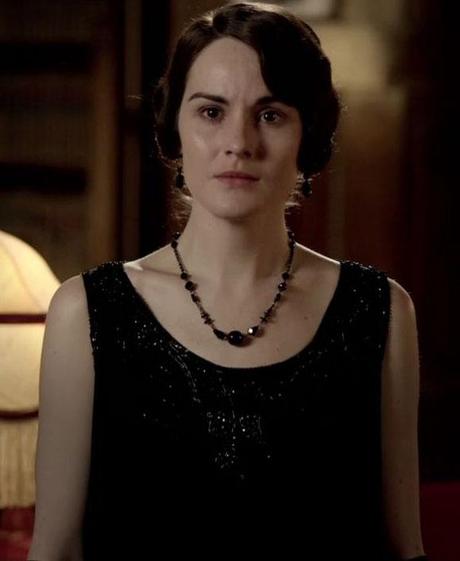 via Grande Caps
We just love the intricate details on Mary's short jet bead necklace. We love that she's mixing up the long beaded strands everyone else has been wearing, along with those sculpted earrings. Add to this the fact that she's wearing a full on Flapper dress, Lady Sybil would have been proud.
Mary's Belle Epoque Necklace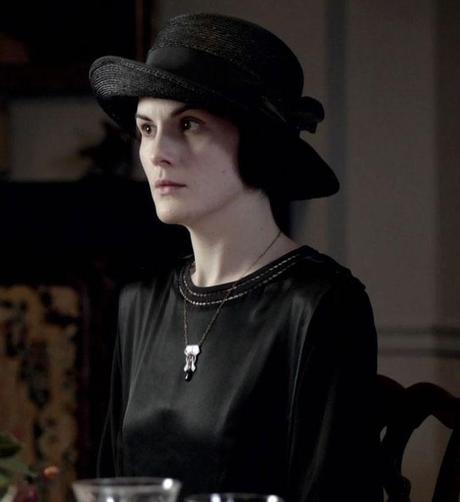 via Grande Caps
For an intimate luncheon at her Mother-in-Law's Mary wore a piece that she's been known to wear to dinner (Kate Middleton wasn't the first British monarch to repeat!) This necklace shows certain Art Nouveau design elements, which is likely a recent family heirloom – perhaps a gift to Cora passed down, or even a gift to Mary (remember, a Grantham Lady never buys her own jewelry, for shame). We like to think Mary's wearing it as a talisman against all the sadness in the manor.