Facebook's new Messenger app for Windows 10 was under development for the last few weeks. The company is planning to relaunch the Messenger app rewritten using Electron.
New Messenger app for Windows 10
Some users might want to try latest version of the Messenger app for Windows 10 desktop. Fortunately, it is possible and here's how you can do it:
1 . Download the latest version of Facebook Messenger (Beta) from this MEGA Link: the package (v250.14.118.0) is currently being released, so you may have already received the update via the Microsoft Store, just as you could instead not having received it yet.
2. Once installed, head over to following location: C:\Program Files\WindowsApps\Facebook.FacebookMessenger_250.14.118.0_x86__8xx8rvfyw5nnt\app
Things to keep in mind:
If you're not seeing WindowsApps folder in the "Program Files" folder, then you need to make sure that the hidden items option is enabled. For that, click on the View and check the box for "Hidden items." Now you will find "WindowsApps" folder.
If you're seeing an error "You have been denied permission to access this folder" when you click on the "WindowsApps" folder, then you need to take ownership of the folder. For that, you need to download TakeOwnershipEx tool, extract the zip file and install it on the computer.
Now right click on the WindowsApps folder and select "Take Ownership/Restore rights", when the UAC dialog box appears, click Yes to continue. If you click on the WindowsApps folder it will open up for sure.
3. Inside the Facebook Messenger app package folder, start the Messenger.exe application found in the folder.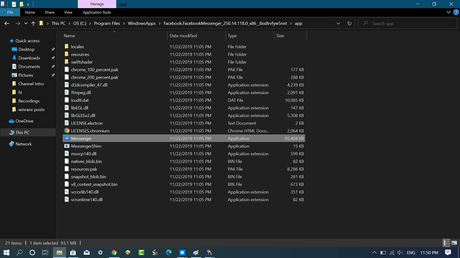 4. Now login using your Facebook credentials and you're ready to use it.
The latest version of the Facebook Messenger app (Beta) you will find new features:
You can permanently delete sent messages
Offer new themes (light, dark, gray theme)
Let you send files
Full-screen mode
Let you hide chats
Update emoticons and new icons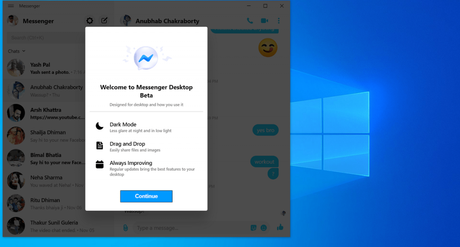 With the help of the above workaround, you can get access to the latest features which was rolled by the Facebook in Messenger Beta app.
You can also download Messenger Beta app from Microsoft Store | Download Messenger app
Source – Aggiornamentilumia.it