New to little Indiana? Subscribe for free to my RSS feed. Thanks for stopping by!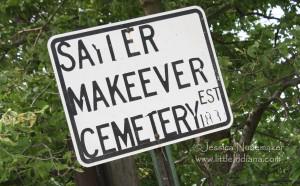 Sayler Makeever Cemetery in Rensselaer, Indiana
You got me little Indiana. I'll admit I wasn't exactly expecting to come across an Indiana cemetery in the middle of absolutely nowhere–and down a gravel road, no less!
The Long, Long Bike Ride
We take a lot of bike rides. After I've been working all day, nothing quite clears the head and gets me ready to dive back in like going for a bike ride. Some days? Well, some days are certainly longer than others!
Meandering around Rensselaer, Indiana we saw a fading sign for "Sayler Makeever Cemetery" established in 1838! The road next to where it stood? Gravel. Just like the one we were on.
Gravel. Lots of Gravel
We started down the gravel road. Admittedly, the gravel was sparse–until it wasn't! It collected at the bottom of a small hill and made me almost lose my balance! Otherwise? What a nice ride!
Sure, we were in the  middle of nowhere to start with but then to get to the cemetery? Well, we went deeper into the middle of nowhere. It was quiet. It was scenic–and it led to an amazing cemetery.
Sayler Makeever Cemetery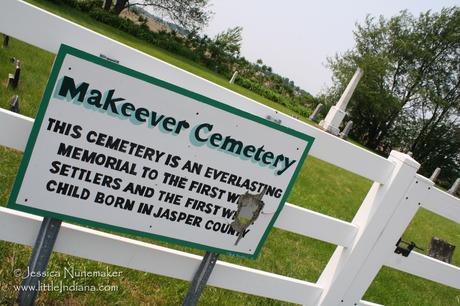 Makeever Cemetery in Rensselaer, Indiana
This cemetery marks the spot of the pioneers who moved to and were born in Jasper County! It was established back in 1838–just think about that number for a minute.
It was so old that many of the inscriptions on the headstones have been worn away with time. In fact, it was so old that the ones we could read? Were mostly depressing. Lots of young children lost way before their time.
What we found awesome wasn't just the large tombstone that towered over the plain and simple headstones–but what we saw written upon it!
Aged Residents
It belongs to a husband and wife who once lived in this Indiana town. He died in 1856 and she died in 1872. Want to guess how old they were? Leave it in the comments below. Remember, this was the 1800′s. I'll tell you who was right in the follow-up image-packed article!
Find images of Sayler Makeever Pioneer Cemetery and other pictures in Indiana on my Flickr photostream.
Sayler Makeever Cemetery
750 W and 460 S
Rensselaer IN 47978

View Larger Map
little Indiana: Where to Stay, Play, and Eat in Small Towns in Indiana. Discovering Indiana's best small towns! Now get little Indiana on your Kindle.
New! Offering affordable online advertising for your small Indiana business! little Indiana Businesses is the online presence that you've been looking for.