In the winter months, it is essential to have a good moisturising hair wash in the bath essentials; because the harsh weather takes away all the moisture from our hair making it rough and prone to breakage. That is why today I will share my experience with the Dove Hair Therapy Hairfall Rescue Shampoo with Nutrilock Actives that works wonders to decrease my hair fall due to breakage and repairs my dehydration related hair damages. Want to know more? Keep reading.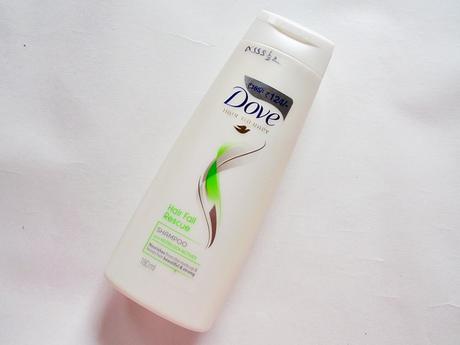 This Hairfall Rescue shampoo by Dove is designed to provide 'superior care' for dry and damaged hair. It contains some nutritive solutions like 'Nutrilock Actives' in its formula to treat dryness and damage.
Why should this particular shampoo be your favourite?
It moisturises hair from root to tip
It effectively reduces the hair fall due to breakage in 6 wash cycles
It makes hair look 'visibly fuller' and strong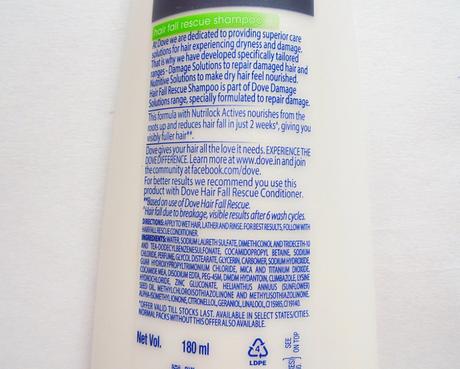 Price: Rs.124 for 180ml (originally Rs. 165 but I got an offer pack)
Shelf Life: 24 months from the date of packaging
How to Use: Wet your hair with lukewarm water. Take shampoo into your palm according to the length of your hair. Take a little bit of water and dilute the shampoo. Apply majorly in the roots of your hair and massage with the fingertips. Finally, rinse away with water. In the final rinse, use cold water to seal the cuticles of the hair. Follow it up with your favourite conditioner. I use the conditioner from this Hairfall range.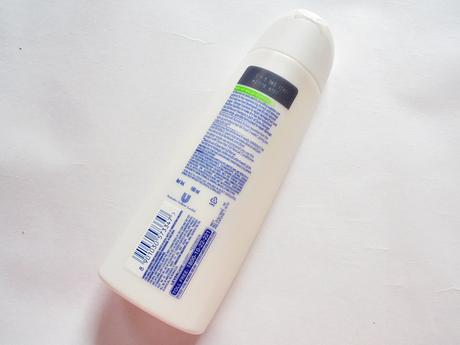 MY TAKE ON THE PRODUCT
Packaging/Availability: The Dove shampoo comes in a typical dove bottle packaging. The white plastic bottle has an ergonomic shape and a plastic cap is provided to lock the opening of the bottle. Both the bottle and the lid are made up of good quality material so there is no chance of spillage or product wastage. Overall the packaging is nice and sturdy. This product is available in many sizes and even in sachets. It is widely available offline. It can be found in almost all the e-commerce sites.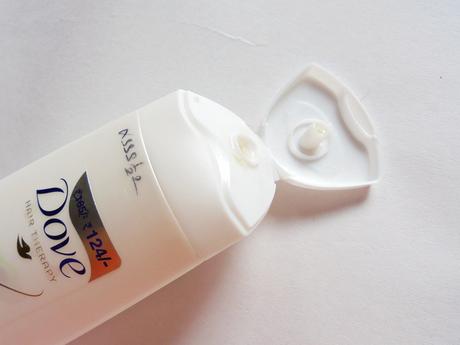 Colour: The Dove hair fall reducing shampoo is pearly white in colour. It looks somehow glittery when I take it out first but after diluting in water the glossiness vanishes.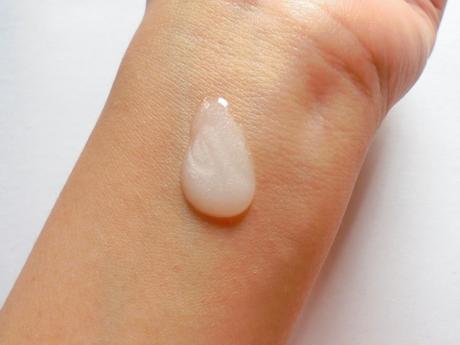 Texture: The Dove hair fall reducing shampoo is of medium thickness; neither too thick nor too runny. It produces heavy yet creamy lather when massaged with water. According to me, this type of consistency is perfect for a split-end reducing shampoo.
Fragrance: This product has a nice floral fragrance similar to the Intense Repair variant from the same brand. The smell stays all day long and prevents hair from smelling foul due to sweat.
Suitability: This product is specially designed for dry and damaged hair that contains split-ends. This could be a nice hair wash for colder months as it contains several moisturising ingredients and 'Nutrilock Actives'. Oily-haired beauties should stay out of this as it can make their hair limp.
Effectiveness: The Dove hair fall reducing shampoo has actually reduced my hair fall due to breakage. Being a wavy-curly haired person I need to use moisturising hair washes or my hair becomes extremely frizzy. This shampoo provides external nourishment to my hair making it manageable. This shampoo makes my hair smooth and tangle free. I use this shampoo twice a week and in the alternate weeks I use a clarifying shampoo. This way my hair stays healthy as well as bouncy.
RATING: 4.5/5
FINAL RECOMMENDATION: I would recommend the Dove hair fall reducing shampoo to someone who wants a budget-friendly nourishing hair wash to reduce the hair fall due to breakage and repair damaged and lifeless hair.