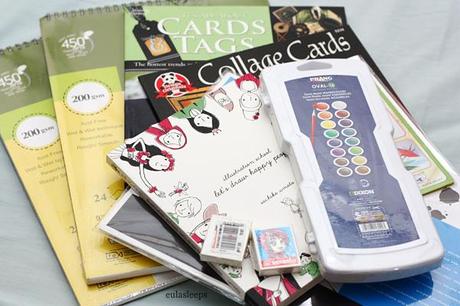 I've been MIA as of late because I've been taking care of some things for my upcoming trip. I've been so busy I haven't even had time to study properly. But now it's time to share happy things!
Last Saturday was one of the best days ever. I was in my favorite store (National Bookstore -- don't laugh, I know you guys love it there too) in my favorite mall (Robinsons Place Manila, where I lived during my internship, aka the best year of my life) with my favorite person (my bb, obvs).
NBS Robinsons Manila is one of the better-stocked branches, despite being in the vicinity of a busy university (unlike NBS Katipunan, ugh). I was so happy to come away with this mini haul. (Bookstore hauls, hey, those exist.)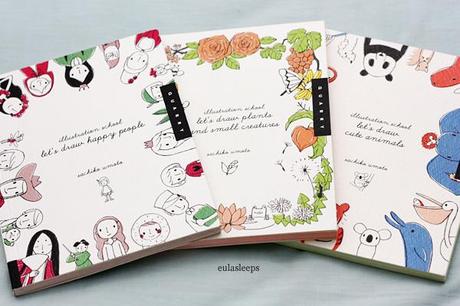 I've been slowly collecting Sachiko Umoto's Illustration School series (Php 545 each). Slowly because of availability -- if all three were available at once I'd have snapped them all up, but usually only one title is in stock at a time. That Saturday I finally found the book I'd been missing: Let's Draw Happy People. Which is the book I most wanted! These are really cute step-by-step how-to illustration books perfect for beginners. It's actually more of doodling, which is my favorite thing to do during class. Google Books has previews of the books: Let's Draw Happy People, Let's Draw Cute Animals, Let's Draw Plants and Small Creatures.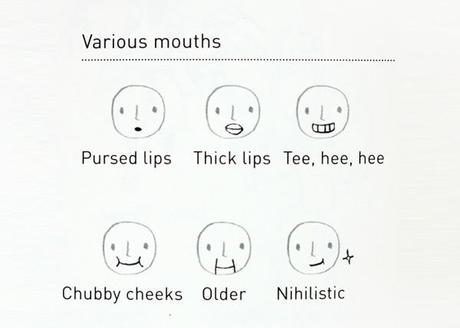 I was not aware of the "nihilistic mouth." *insert nihilistic mouth here* I will take it as a mistranslation of "smirk."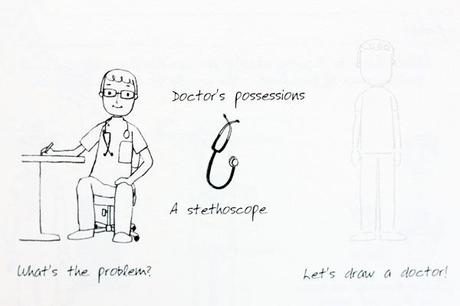 This is my favorite page because it reminds me of J as a clerk, heehee!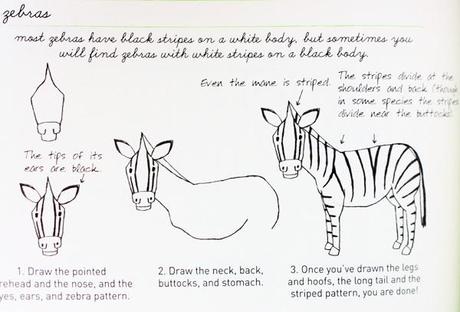 A page from Let's Draw Cute Animals.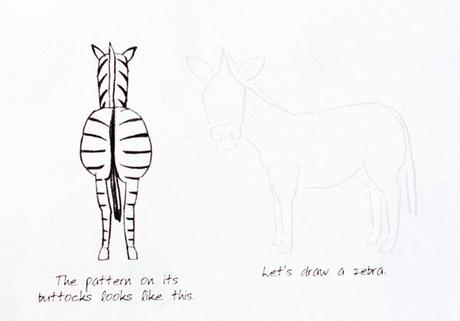 It even includes the zebra's butt, hahaha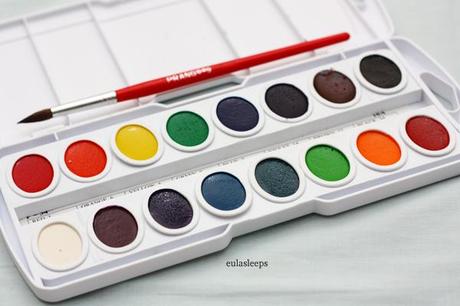 Also, Prang watercolors! I haven't seen these in ages; I thought they were pulled from the country! I remember using these in elementary school. They're great for beginners because the colors are super vivid. I went for the 16-color cake (around Php 300) because I always find it harder to mix watercolors in pans than watercolors in tubes. Deovir sells cake refills too I think.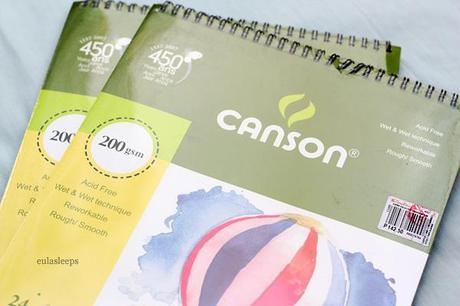 And of course, watercolor paper. These Canson pads are so cheap, Php 142.50 for 24 sheets, 200 gsm. I wanted to hoard!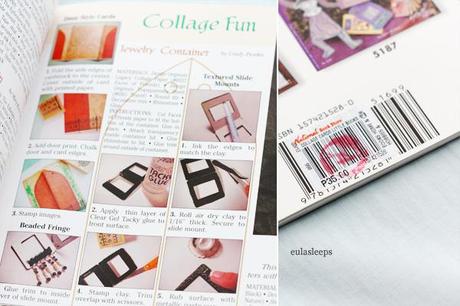 I also bought a couple of erasers (for rubbercutting), some sticker paper, cheapo origami sheets (Php 11 for 20 sheets) because I'm too lazy to cut cartolina into perfect squares, and some card-making books for inspiration. The book above is only Php 35, can you believe it? The cashier couldn't -- "Thirty-five pesos lang 'to?" ("This is only thirty-five pesos?") she muttered, hahaha!
Now to make a dent in all this crafty stuff... *rubs hands eagerly*