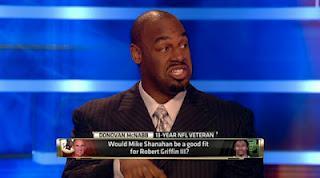 Photo: ESPN - First Take

- Troy Ballard 


Donovan McNabb is a media juggernaut.

He has been that way his entire career. In Philadelphia, in Washington, in Minnesota, and even now, in the middle area of retirement and unemployment.

But luckily for McNabb, ESPN isn't quite as partial when choosing NFL veterans to bring onto various shows. Without a team, McNabb agreed to appear on 

First Take 

to chat about NFL happenings, and more specifically, the Washington Redskins drafting Robert Griffin III.

And those producers in Bristol knew what they were doing.

McNabb's response when asked if RG3 would work in Washington was blunt and straight-forward --

"No. I say that because a lot of times, ego gets too involved when it comes to being in Washington. Here's a guy coming out who's very talented, mobile, strong-armed. We've already heard he's intelligent.

Football mind. Are you going to cater the offense around his talents and what he's able to do? Or are you going to bring the Houston offense with

Matt Schaub

over to him and have him kind of be embedded into that?"

In essence? McNabb metaphorically gave a middle finger to Mike Shanahan.

And to an extent, what he said is true. Shanahan seems to have this idea that every quarterback should be able to succeed in his hybrid west coast offense, regardless of the player's skill set. But in reality, that's not the case at all.

Along with that -- Shanahan's massive ego has been well documented through his entire coaching career. It really came to a head when McNabb was in Washington, and the two frequently wrestled to out-ego one another. It was actually almost comical. 

But what McNabb said wasn't just opinion, he also backed it up with some chilling numbers --


"

We talk so much about Mike Shanahan and the things that he was able to do in Denver. Well, I have a couple of names for you that Mike Shanahan, quarterbacks he's coached and the lack of success that he's had. We have 

John Beck

, who was 0-4. 

Rex Grossman

, 6-11. 

Jay Cutler

, who was his prized possession, 17-20. Jake Plummer, a guy who had success, led them to the AFC Championship against Pittsburgh and then benched him the next year because he wouldn't do what he wanted him to do pretty much. Brian Griese, who was supposed to be the heir apparent to John Elway and hasn't had a lot of success."

 

Grammatical issues aside with McNabb's lingo, he raises a valid point. Shanahan has had a gluttony of talented quarterbacks, and over the course of his entire coaching career, only one has really found success -- John Elway. 

McNabb told it how it is. 

Shanahan's ego can get in the way of making necessary changes to accommodate a certain talent set at the quarterback position. Then he backed it up by reeling off a list of talented players that failed under his system. McNabb has a serious feeling that RG3 will be restrained by Shanahan's no wiggle room coaching style, and really, it's a legit concern. 

To most, this comes off as McNabb being disgruntled at the way his career has inevitably concluded, and as an attempt to take a shot at Shanahan and the Redskins, and that may be part of it. But what McNabb said was also true, and something that shouldn't be discredited as invalid due to personal motives. 

I don't know if RG3 will bust in Washington, but McNabb did shed some light on an area that most were ignoring.


Be sure to follow Beard and Stache on Twitter @BeardAndStache, and also Troy @TroyBallards, Like our Facebook page HERE!