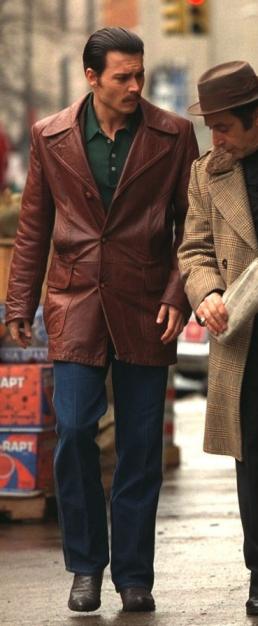 Johnny Depp as Joe Pistone, aka Donnie Brasco, with his clothing undergoing Al Pacino's scrutiny in Donnie Brasco.
Vitals
Johnny Depp as Joe Pistone, aka "Donnie Brasco", undercover FBI agent infiltrating the Mafia
New York City, November 1978
Background
I try to respond to all requests, though unfortunately not in as timely a fashion as I would prefer. However, last December, BAMF Style had a request from Max to cover the leather from Donnie Brasco. Anyone who has seen the film knows that this is a wise suggestion as Donnie Brasco, and Depp's titular character in particular, showcases a great array of '70s leather in the great era before everyone was wearing ugly neon windbreakers, as I assume everyone in the '80s did.
Depp wears three leather jackets during the film, the first being this everyday brown jacket. He follows it with another brown jacket, styled like a sport coat. By the end of the film, and in time for his transformation over to the "dark side", he is wearing an all-black leather jacket.
What'd He Wear?
Through the beginning of the film, as Donnie quickly rises with Lefty and Sonny Black's crew, the main staple of his wardrobe is a very '70s and very cool brown textured leather jacket. The color is a reddish brown, possibly "saddle brown".
The jacket is very typical of the era, and I was lucky to inherit one just like it from my grandfather. It is not a particularly slim-fitting garment, but it flatters a muscular physique and is usually roomy enough to hide a "lumpier" frame. I can attest to this as my personal jacket looked good on me in my more lithe years and still looks good even after picking up a few (40!) pounds.
Depp's jacket is single-breasted and extends down to the top of his thighs. The collars are large trench-coat style lapels with stitched edges. There are seams and yokes aplenty, with shoulder yokes extending diagonally from the center of the neck and down the front of each side until connecting with the sleeves.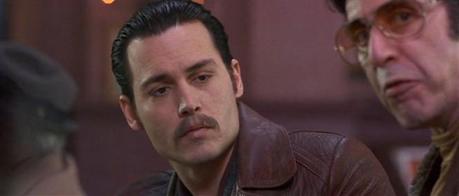 I can guarantee I wouldn't look this nonchalant about hanging out with Al Pacino.
The fitted back has a horizontal seam around the waistline and three vertical seams rising from it. The two outer of these vertical seams angle out to also meet their respective sleeves. If this doesn't make sense to you – and I slightly confused myself typing it – just look at the picture.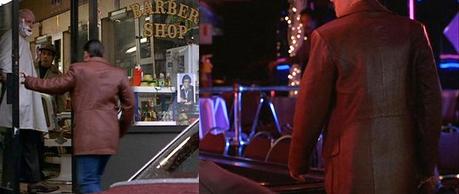 See? I kinda did a good job describing it, right?
The front has three buttons covered in a slightly lighter brown leather. When Depp wears the jacket closed, he usually just fastens the lower two. This is a no-no with suit jackets, but it works for a more casual leather jacket. There are four pockets on the front, with two on each side: a box-pleated hip pocket with a large rounded rectangular flap, and an open vertical pocket just above it. It is this open pocket, on the left side, where Donnie/Joe hides his tape recorder.
The cuffs are plain with no buttons or tabs, giving the jacket a cleaner look and not getting in the way when he wears it with multiple layers.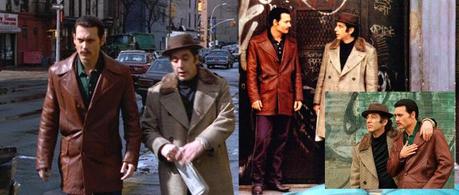 The film makes a point of contrasting the hip, fresh styles of Donnie and the more dated attire worn by Lefty.
Most of the time, at least during the beginning of the film, Donnie/Joe wears a pair of dark blue denim jeans with sharp creases in the front and white stitching on all pockets and seams, including very noticeable side seams. His Mafia "mentor", Lefty Ruggiero, quickly addresses this:
Get a pair of pants. This ain't a fucking rodeo. Dress like I dress.
Luckily, Donnie/Joe only listens to the first part of Lefty's advice as Lefty's attire is very dated whereas Joe's, while stylish for the era, is a more timeless example of vintage cool.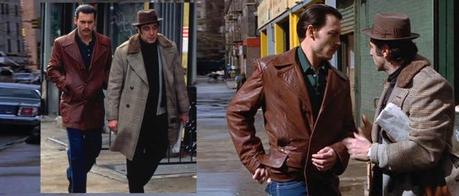 Lefty: "Dress like I dress."
That might work, if Donnie was twice his own age.
When engaged in mob activity (read: "being a badass"), Donnie/Joe always pairs his jacket and jeans with a sport coat and a polo.
Combo #1
When Lefty first talks to Donnie/Joe, sitting at the bar in a Little Italy bistro, the latter is wearing a dark green single-breasted 2-button sport coat and red polo with his jacket and jeans. We don't see much of the sport coat, other than the details I just mentioned, but we get plenty of views of the unique polo.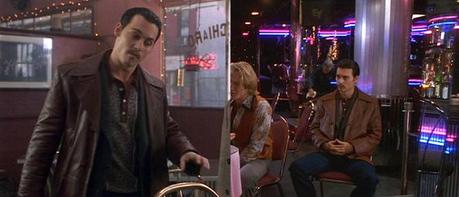 Depp swallows a grapefruit on the left.
Donnie/Joe's knit long-sleeved polo shirt is dark red with large soft collars and a placket with four white plastic buttons. When he wears both jackets open and unfastened, we see more of the shirt, including a white pattern over the entire front of the shirt. Flanking the center of the shirt are two columns; each column has a pattern of white diamonds encased by white stripes. Again, this is a shoddy description and only the photo can do it justice.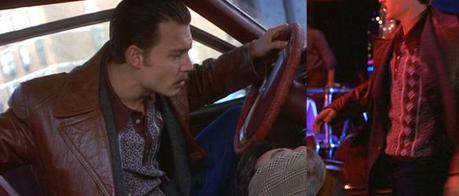 How do you describe a shirt like this?
Combo #2
The next day, when Lefty gives Donnie/Joe his crash course on the Mafia, interjecting his own style tips as well, Donnie/Joe wears a dark brown blazer and a green polo.
The dark brown blazer is single-breasted with two brass buttons and 3-button cuffs. Since this is the '70s, the coat also has wide notch lapels and swelled edges. His shirt is a more standard plain green polyester polo shirt. Like the red shirt, the placket has four white buttons.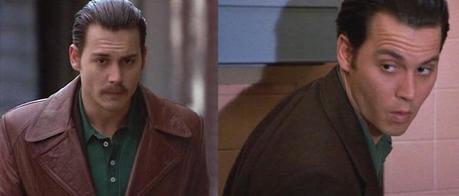 No mustache? No worries! You can still pull off Donnie's look!
Combo #3
The day after Christmas, Donnie/Joe layers up against the colder weather. In addition to his sport coat and polo, he also wears a comfortable brown ribbed wool knit zip-up sweater, resting the unzipped collar of the sweater over the jacket's lapels.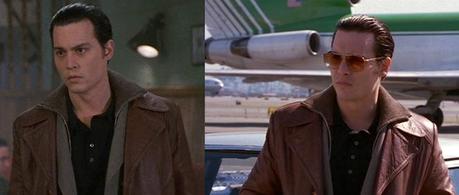 He looks much less sullen when he puts on the sunglasses.
The sport coat here is a lighter brown single-breasted coat with tonal stripes. His black polo has four plastic buttons.
Since Lefty had warned him earlier about his jeans, Donnie/Joe is now wearing a pair of very dark brown flat front trousers with a belt.
Combo #4
When meeting with his FBI contacts, Donnie/Joe adopts a more casual look, ignoring the blazers and trying to be as low-key as possible. For his first meeting with Agent Curley, he wears a black mock polo neck shirt, a light brown wool newsboy cap, and khaki slacks.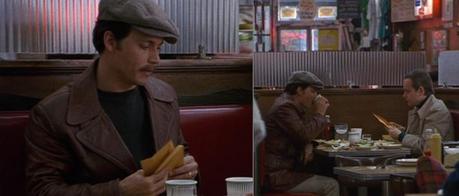 The last hurrah of Joe Pistone's mustache.
Combo #5
During the "Happiness" montage, Donnie/Joe is again seen meeting with Curley, this time wearing another dark red polo. This one is definitely different from the other as it has a plain red front and gray trim on the large collars, but it does have the same 4 white buttons on the placket as all of his other shirts. He pairs this with an olive drab zip-up hoodie with black trim.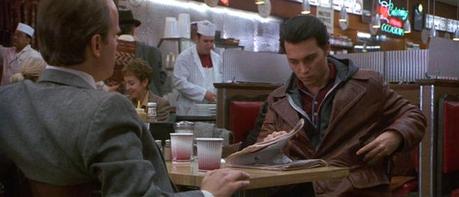 One of the better ways to wear a hoodie, if you must wear one.
Accessories
Donnie/Joe keeps his accessories consistent throughout the film, wearing the gold Claddagh ring on his left ring finger as Pistone wore in real life. This is explained in my previous Donnie Brasco post. Donnie/Joe also wears his wristwatch, which has a small gold square case, a plain white face, and a black leather strap.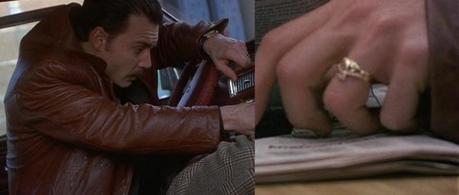 Part of the reason Lefty mocks Donnie/Joe's "rodeo" attire is the pair of black leather Western-style boots that Joe pairs with his jeans. The boots rise high on his calves with embossed leaf patterns on the sides. Despite the criticism, Donnie/Joe continues to wear these boots to hide the tape recorder that records his conversations with the mobsters. Since this is a chilly New York winter, Donnie also wears a pair of very high dark brown wool socks.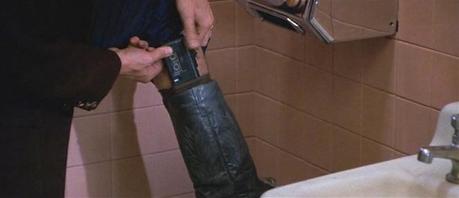 Who's laughing now, Lefty?
To combat the sun on the chilly but sunny day after Christmas, Donnie/Joe wears a pair of cool '70s aviators with gold frames and amber gradient lenses.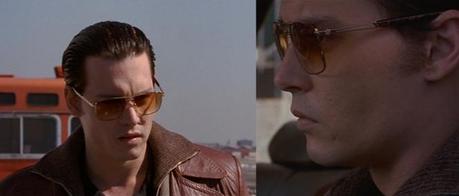 Go Big or Go Home
Although the mob may disagree, having placed a $500,000 contract on his head, Joe Pistone was very brave for his undercover operation. At the time, deep long-term undercover work was unheard of, especially in the FBI, as J. Edgar Hoover had never wanted his agents to be compromised by the "dirty work" that may be required. However, the Jersey-bred Pistone, who was fluent in Italian, had Sicilian heritage, and had worked in the Office of Naval Intelligence, was a natural for the undercover work required. His first job was infiltrating a gang that was stealing heavy vehicles, with his experience and ability to drive 18-wheel trucks and bulldozers coming in handy. In February 1976, Pistone finished his work, leading to the arrest of more than 30 criminals.
After this, Pistone, now christened as expert jewel thief "Donnie Brasco", began Operation Sun-Apple which spanned from New York ("The Big Apple") to Miami (which is sunny). The operation, which was to last around six months, began in September 1976, with jewel thief Brasco intending to bring down a group of people fencing stolen property from the daily truck hijackings occurring around New York City at the time. Six years later, Donnie/Joe had penetrated the core of the New York Mafia, with both the FBI and NYPD listing "Don Brasco" as an actual mob associate and fellow Bonnano capos and soldiers Tony Mirra, "Sonny Black" Napolitano, and "Lefty" Ruggiero trusting Donnie/Joe with mob secrets.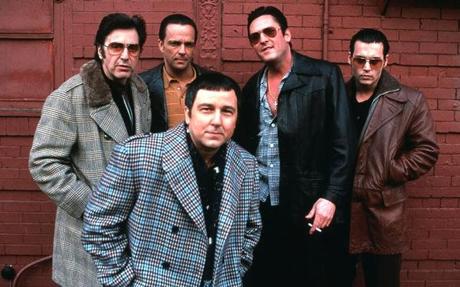 The most trustworthy pack of guys in the world.
In the film, one of the things that draws Lefty to Donnie is his car, a dark red Cadillac Coupe de Ville Phaeton. Like the one driven by Henry Hill in Goodfellas, this is a 1979 model. However, Henry's was "Western Saddle" in color and looks more like Donnie's jacket than his car.
Lefty: So you like the DeVille?
Donnie: Oh, fuhgeddaboudit.
Lefty: I got the Fleetwood Brougham.
Donnie: Is that right? With the velour?
Lefty: Fuhgeddaboudit.
How to Get the Look
Pistone swaps out several polos and sport coats with his leather jacket, but the most notable and oft-seen in his green polo and brown blazer.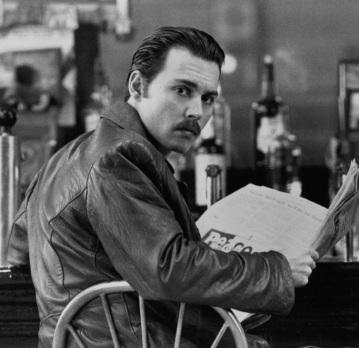 Pistone is able to dress up and dress down his jacket. You should have be able to do the same.
Saddle brown thigh-length textured leather jacket with 3 light brown leather covered buttons, open side pockets, and large flapped hip pockets
Dark blue creased-front denim jeans with white stitched pockets and seams
Dark brown single-breasted blazer with wide notch lapels, 2-button front and 3-button cuffs (with brass buttons), and swelled edges
Green polyester polo shirt with a placket of 4 white buttons
Black leather Western-style boots with embossed leaf patterns
Dark brown wool socks
Gold-framed aviator sunglasses with amber gradient lenses
Wristwatch with gold case, square white face, and black leather strap
Gold necklace with cross pendant
Gold Claddagh ring on left ring finger
Do Yourself A Favor And…
Buy the film.
The Quote
Jilly: My friend Lefty's asking about you. Don't embarrass me.

Donnie/Joe: I wouldn't do that to you. You know that.

Jilly: If you do… one of us is gonna whack you out.

Donnie/Joe: That's not good.