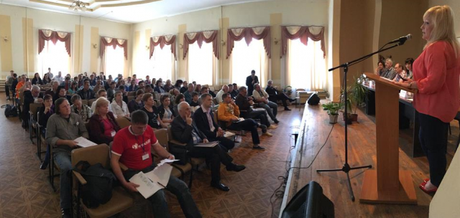 By Anastasiya Baklan
The war in Ukraine has been especially difficult for small businesses in the conflict-affected regions, despite a ceasefire agreed to in February 2015. According to the data of the State Statistics Service of Ukraine, communities in Luhansk, Donetsk, Kharkiv, Dnipropetrovsk and Zaporizhia suffer from a severe economic crisis, which is especially stressful for small and medium business owners.
Analysis of business owners' attitudes in the Donbas region shows that the stressful situation provokes a fear of investing in illiquid assets such as real estate and land. So entrepreneurs in the region are revising their business models, leasing assets where possible and limiting immobile capital investment.
With the goal of assisting SMEs affected most by the economic downturn, as well as those businesses displaced by the conflict, CIPE recently supported at-risk entrepreneurs in six towns (Berdyansk, Pershotravensk, Slavyansk, Lozova, Svatovo and Kreminna) through a business training and mentoring program for 119 people. The USAID-funded project was based on strategies that promote specific business sectors in each of the target communities, which business owners are now beginning to operationalize.
Given the dire economic situation in Donbas, CIPE was pleasantly surprised to encounter several social impact business models. For example, Oleksandr Gadenko from the village of Osypenko near Berdiansk, has a business concept that will extend the public water supply to the villagers who suffer from a complete lack of water.
The business would bring fresh running water to residents of 800 housing units, which currently have no access to water at all. The novel business financing model, involving a mixture of state investment, private funding, and donor support, will allow villagers to access running water while earning a modest rate of return for the business owner.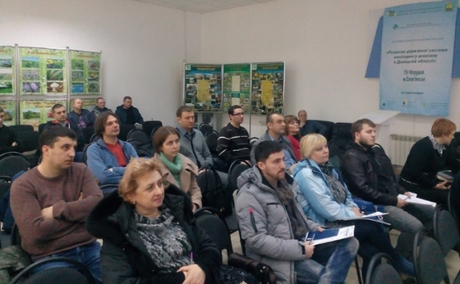 On May 17, as a final celebration of the business plans produced, CIPE held a one-day "capstone" conference in Slovyansk for all participants to share best practices, discuss and finalize business plans, and solidify contacts between program participants, potential business funders, and meetings with other donor organizations. The conference aimed to present the project's results as well as to discuss the SMEs' needs, possibilities, and future prospects. Project implementers also prepared a brochure with information on various donors and grant organizations and their programs focused on SME support.
CIPE's program team was really impressed by the optimistic attitude and the participants' willingness to challenge themselves to create better business models. Entrepreneurs generally did not complain about current business conditions, refrained from (in many cases warranted) criticism of idle local authorities, and were determined to change the business environment in which they are operating for the better. Natalia Zhuhay, CIPE's program coordinator noted that the entrepreneurs believe in themselves and are focused on reaching their goals, no matter the impediments.
The program allowed CIPE to learn more about the specifics of doing business in the Donbas, especially its business support organizations, physical infrastructure, and the attendant problems and opportunities in small cities. Typically, small cities are not paid much attention by international technical assistance and aid projects, but the project allowed CIPE to assist entrepreneurs to grow their business, provide jobs, and let a population cynical of the West know that help is out there for those willing to help themselves.
Anastasiya Baklan is a Communications Specialist at CIPE Ukraine.