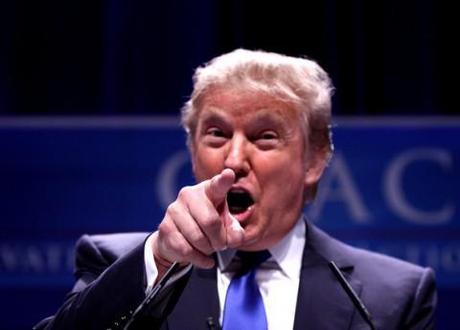 You're fired: Donald Trump. Photo credit: Gage Skidmore, http://flic.kr/p/9hHrit
Is Donald Trump still considering a run at the US presidency? The property magnate and TV mogul suggested as much after dropping out as moderator of the Republican debate he organised: "I am not willing to give up my right to run as an Independent candidate. Therefore, so that there is no conflict of interest within the Republican Party, I have decided not to be the moderator of the Newsmax debate," announced Trump, according to The Washington Post.
Trump is no fan of Democrat White House incumbent Barack Obama and already threatened to run for president earlier in the year. Back in November, The Wall Street Journal revealed that Trump's new book, Time To Get Tough, saw The Apprentice mogul reiterating his intention to run against Obama if the Republicans don't field a strong candidate. However, commentators suggest there may be other factors at play this time – not least the fact that only Newt Gingrich and Rick Santorum from the GOP field had agreed to take part in the debate. So was Trump saving face, or is he really serious about taking on Obama in 2012?
Avoiding embarrassment. "Apparently, even Donald Trump realized that being seen at the Donald Trump Newsmax debate might damage his credibility," wrote Alexandra Petri at The Washington Post's ComPost blog. Petri pointed out that a debate featuring just Gingrich and Santorum wouldn't exactly be termed a raging success.
"Thousands of e-mails from folks urging me to seek the Americans Elect Presidential nomination," tweeted Donald Trump.
Ridiculous excuse. Salon's Steve Kornacki described Trump's proposed presidential bid as an "empty threat" and suggested the statement was a face-saving exercise after Michele Bachmann, Rick Perry, Ron Paul and Mitt Romney refused to join the debate: "It's the perfect cover for this situation, isn't it? Romney, Bachmann, Paul, Perry and Huntsman — they didn't snub me because I'm a joke, they're scared of me because I might run against them!"
Republicans at war. "[Trump] has burrowed his way into the middle of a fight within the GOP that endangers the party's chances of retaking the White House," wrote DeWayne Wickham for USA Today. According to Wickham, the Republican Party is currently split between the centre-right, who think a candidate like Gingrich would have no chance of beating Obama, and the "senseless right", as represented by Trump.
Good for the Republicans. Whatever Trump's intentions, Peter Grier said at The Christian Science Monitor that his decision to drop out of the debate was beneficial to Republicans, some of whom "have been worrying that the Trump debate would bring the equivalent in bad PR that Rick Perry's what's-that-third-thing brain freeze did, only for the entire GOP".
Donald Trump called for President Obama to produce his birth certificate to prove he is a US citizen earlier this year. See below for the video of Obama's response that went viral.