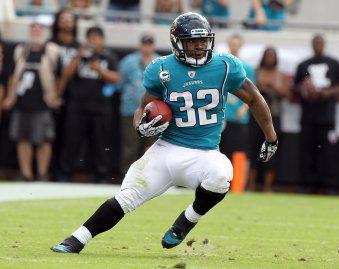 Photo: Sam Greenwood - Getty Images
- Adam Parker
Matt Forte. Ray Rice. Adrian Peterson. Fred Jackson. Marshawn Lynch. Arian Foster. Chris Johnson. Each one an elite running back. Each one the driving force behind their respective team's offense. Each one paid his due.
And then there's Maurice Jones-Drew. He's been arguably the best running back and top workhorse in the NFL since he broke into the league with Jacksonville as a second round draft choice out of UCLA back in 2006.
I'm not going to beat around the bush. MJD
 is 
the Jaguars. He's been the heart of that franchise for what many people would say seems like forever, despite only being 27.
At the moment, MJD is not in training camp because he's holding out for more dough. Understandable, considering the short shelf-life of NFL running backs and that he led the entire league in rushing in 2011 with 1,606 yards. Oh, and did I forget to mention that he
is
 the Jaguars? I didn't? Well, either way, it's worth reiterating.
The Jaguars' offense, which is already anemic through the air — Jags' fans have Blaine Gabbert and the lack of receiving talent to blame for that — looked to MJD for everything. Honestly, I felt like I could have thrown some pads on last year and been the Jags' quarterback. Quick, someone get me my flak jacket!
No offense, Blaine, but I think almost any one of us fans could have done your job last year. After all, all it would have taken is to take a clean snap from under center and hand the ball of to Jones-Drew. Hell, we probably could have executed the Jaguars' 32nd-ranked passing game too, considering MJD was also the team's third-leading receiver.
Anyway, you get the idea. MJD is the man, and not someone who's easily replaced.
That's why I'm so disgusted when I read, 'Jones-Drew's production in Jacksonville likely wouldn't be impossible to replace, especially since the NFL has moved to a more predominantly pass-oriented league.'
That may be true, but it seems like the Jaguars haven't gotten the memo yet. Oh wait, yes they have, their passing game just downright stinks and they need MJD's 'Superman' abilities to keep their pathetic offense afloat.
I give props to guys like Rashad Jennings and Jalen Parmele for stepping up and carrying the torch for MJD while he fights for the money that he most certainly deserves, but if they think even the two of them combined could match Jones-Drew's production, then someone must have slipped some hallucinogens into their Gatorade during practice.
Not only that, you've got to believe that the Jags will want to let Gabbert play with his new toy in stud rookie wide receiver Justin Blackmon out of Oklahoma State. The Jaguars are done babying Gabbert, and now that he has his true No. 1 receiver, there are no more excuses. He needs to put up or shut up and hand the reins to Chad Henne, who I'm sure would love nothing more than to prove that he has the ability to be a starting quarterback in this league.
But in the end, it doesn't really matter that much who starts at quarterback for Jacksonville. They're a running team first and foremost, with or without MJD in the fold. But if they want to be a
successful
running team, then they need to pay the man and get him into camp. Without MJD in the backfield, NFL defenses will be content to sit back with 8 men in coverage against the struggling Gabbert, and if that happens, the Jaguars will be doomed.
If Jones-Drew misses any regular season games over this holdout, then the Jags' might as well pack it in early and look forward to a top five pick in next April's draft, because they'll be going nowhere fast unless
Superman
MJD is there to carry them on his back.
Be sure to follow Beard And Stache on Twitter 
@BeardAndStache
, and also Adam 
@Adam_Parker43
, Like our Facebook page 
HERE
!