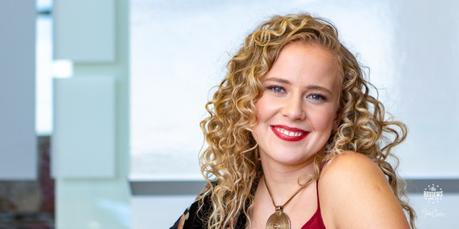 Maddie Storvold came from Edmonton (via Cold Lake) to Toronto to audition for The Launch as a folk singer/songwriter looking for the next big step in her career. On Wednesday night after she was named the fifth chosen artist of season 2, she became the owner of the show's first country song and a #1 single on the iTunes Canadian Country chart.
Legendary Canadian rocker, Bryan Adams brought Don't Say You Love Me to The Launch as a stripped-down ballad. But during the show, it was nearly impossible to separate his voice and style from the song... until we heard what it could become. In the final moments of the episode, Maddie was revealed as the artist that would be launched, and within three hours of the song's release to the world, it was already at the top.
We caught up with Maddie Storvold on Thursday in Toronto to talk about the song, her episode, what comes next, and we even played a round of 5 Quick Questions with her.
If you haven't heard Don't Say You Love Me yet (or you just want to hear it again), hit play now and read on.
By the time we sat down with Maddie on Thursday afternoon, she'd already been go-go-go with interviews, TV appearances and more since the wee hours of the morning. But, you'd never have known it by her energy, enthusiasm, and smile. It made for a wonderful conversation and connection as the sun shone through the windows of the Bell Media offices on Queen St. West.
We asked Maddie about the excitement of the show premiering on Wednesday night and the song and her secret being shared with the world. Even without her words, the smile on her face told us that she was still revelling in it. She joked about the legalities of not being allowed to tell anyone about the results of her episode before telling us how great it was to have that news out in the world, and the song available for everyone to hear.
As we spoke about Don't Say You Love Me, the multiple points of impact that the song has already had on her career, and Canadian music, started to become clear. Maddie told us that country music was new to her with the song. She had previously been focused on folk, writing and singing stories that she wanted to share. But since recording the version of Don't Say You Love Me that Scott Borchetta and Bryan Adams worked on with her, she's discovered that the genre also allows for those same stories she's always been drawn to. She quoted Harlan Howard's famous line describing country music as three chords and the truth and seemed to genuinely be excited about moving in that direction.
Note: We also joked that after a 30+ year career, and status as the biggest solo male rock star in Canada, Maddie had made Bryan Adams a country songwriter. She told us that he also acknowledged that it was his first country song. And after a laugh, we all agreed that we'd be into it if Mr. Adams wanted to write more country songs in the future.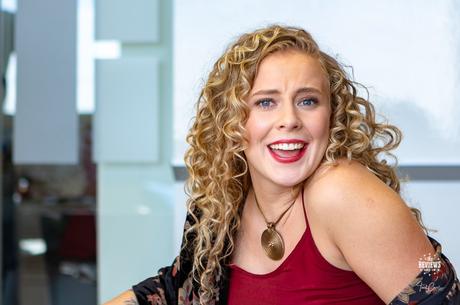 During our chat, we also talked about the long days on set (many, many hours from the morning 'til late into the night), her audition (more on that in a second), and even her outfits on the show. The Launch is an interesting situation, with the filming happening weeks and even months before the episode and song are released to the public. It gives the artists an opportunity to truly look back at it with fresh eyes and a new perspective when they see it on TV. Maddie told us that she was curious as to how the episode would be edited, what pieces would be shown, and how she'd be introduced to viewers. In the end, it's safe to say she's happy with how it turned out.
Maddie's audition had one of the greatest surprise moments in the show's two-season history so far when Bryan Adams joined her to sing When You're Gone. We asked about that moment, and if she remembers what she was feeling and thinking. She told us that she remembers instant excitement, but also wondering if he was joking. She added that the thoughts in her head were to instantly tell someone to get the man a guitar and up to the microphone before he could change his mind. It was a moment that she'd dreamed of as a fan for a long time, and then boom, it was happening.
From there she got into the booth, everyone worked and worked to get the cut of the song that we know now, and everything really started coming together. We asked Maddie if there was a moment when Don't Say You Love Me started to feel like it was her song, and she told us that it came early. When she heard it, she felt a connection, and before she knew how it would turn out, she wanted it.
And now, with all kinds of love and support from Canadian music fans, the song truly is hers!
As we mentioned earlier, we took the chance to play a round of 5 Quick Questions with Maddie while we were with her. Hit play now to learn what albums she's taking on a long drive, who she'd love to duet with (now that she's been able to cross Bryan Adams off the list), and more!
Big thanks one more time to Maddie Storvold for hanging out with us on a busy day. Keep an eye on her website and social media channels ( Facebook, Instagram, Twitter) for updates on shows, exciting content, and who knows what else in the future!