If you're walking the streets of Chicago on Saturday, June 11
, 

and you see a crowd of naked people riding their bikes, don't be alarmed.

The World Naked Bike Ride (WNBR) is back in Chicago and the event is "bare-as-you-dare." WNBR is an international, clothing-optional event to bring attention to people-powered transport and the promotion of positive body image. The hosts of WNBR believe that bicycles represent the best solution for decreasing America's petroleum addiction.

Traditionally, the event has occurred on the second Saturday in June every year since 2004. Believe it or not, full frontal nudity is allowed and a lot of participants have taken advantage of that in the past. However, if you want to participate but don't feel comfortable expressing yourself to that extent, we don't blame you. In the past, people have also painted their bodies or worn underwear and costumes.

Interested in attending? The location of WNBR is not disclosed until days before the event to limit the planned crowds and bystanders. The location will only be a checkpoint where further directions will be given to participants during the event. Join the Facebook group to RSVP for the event for more information and event details.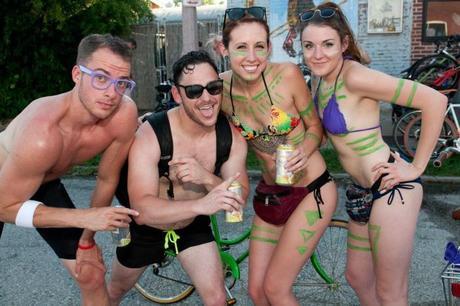 The hosts of WNBR would like you to know that this IS an extreme free speech exercise and it is not a joke for your entertainment. They would also like you to know that bystanders have tried to cross the line and have been inappropriate in the past.
Remember: You are responsible for yourself. Photography before/after the event is not allowed in their lot.
If you appreciate the cause but rather not ride a bicycle around town in your underwear, or nude, that's completely fine. You can visit their website and make a donation instead.
Did you participate in the WNBR last year? Tell us about your experience below.