Vintage car fans from around the nation will gather at the Indianapolis Motor Speedway for   one of the largest vintage racing festivals that includes four days of action at the Brickyard Vintage Racing Invitational.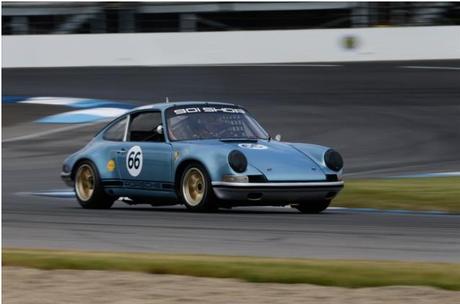 Race fans will see Vintage Indy cars, Formula One cars, stock cars and more classic cars racing on the famed 2.5-mile oval and the 2.439-mile IMS road course from June 11-14.
The schedule for the Brickyard Vintage Racing Invitational starts on Thursday, June 11 at 8 a.m.-12:35 p.m. with group practice sessions, with part one of the road course qualifying sessions beginning at 1:05-6:05 p.m.
Friday, June 12
8 a.m.-Noon: Road course qualifying sessions 2
12:40-1:10 p.m.: Pro-Am practice, road course
2:15-6 p.m.: Oval exhibitions
PRO-AM: Thirty-three former Indianapolis 500 drivers, including two-time champion Al Unser Jr., will practice on Friday and race on Saturday in the Pro-Am event.
ON THE BLOCK: "Motostalgia," a high-end car auction, will be held at 3 p.m. on Friday. Among the cars up for bidding is the Lotus turbine that Graham Hill drove in the 1968 Indianapolis 500.
Saturday, June 13
8:15 a.m.-12:25 p.m.: Group races, road course
12:30-1:10 p.m.: Pro-Am fan walk, pit lane
FAN WALK: Before the Pro-Am on Saturday, a fan walk is available on the pit lane. This is an excellent opportunity to meet drivers up-close and obtain photos and autographs.
1:10-1:30 p.m.: Pro-Am pre-race ceremonies
1:35-2:25 p.m.: Pro-Am race, road course
2:25-6:20 p.m.: Group races, road course
A "Show and Shine" event on Saturday in the infield near the golf course will feature hundreds of cars from various car clubs, perfect for walking and taking photos. And, Blood, Sweat & Tears will play Saturday evening in Pagoda Plaza. Free to all BVRI ticketholders.
If you're at IMS at 3 p.m. on Friday and Saturday look to the skies for a hot air balloon that will be tethered in the infield. Fans can ride the  hot air balloon 75 feet in the air for a unique perspective on all the action. Rides are $10 per person, with children 12 and under free with an adult. Also, between 6:30-8 a.m. on Friday, Saturday and Sunday (weather permitting), six balloons will launch outside IMS to commemorate the 1909 balloon races that were the first events of any kind at the facility.
Sunday, June 14
8:20 a.m.: National Anthem
8:25-9:35 a.m.: Vintage/Classic enduro race (60 min.)
9:55-11:35 a.m.: Historic GTP/GT endure race (90 min.)
11:50 a.m.-12:20 p.m.: Fan walk, pit lane
12:35 p.m.: Unser family exhibition race, oval
UNSER REUNION: For the first time ever, five members of the Unser family will drive on the IMS oval at the same time. Al, Bobby, Al Jr., Robby and Johnny Unser will drive on Sunday in vintage Indy cars.
1:05-5:15 p.m.: Oval exhibition
For tickets and additional information, please visit www.ims.com or call (800) 822-INDY.