I know you don't listen to Tennis Quick Tips to find out how to lose your tennis matches. But this week, I'm going to point out five fatal errors you may be making on court - the kind of errors that can quickly lead you to a loss. So listen in to learn about 5 ways you can lose your next tennis match - and then be sure you don't do these things! You can listen to this episode by clicking on the media player in this post or by listening in with your favorite podcast app. You can also subscribe in iTunes by clicking on this link: tennisfixation.com/itunes.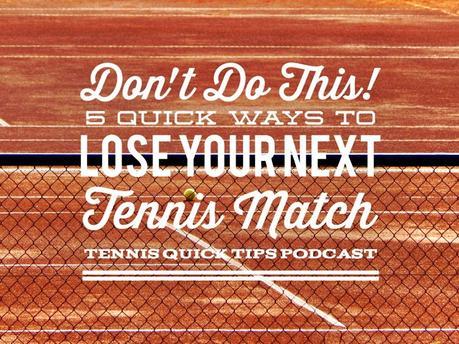 SHOW NOTES
Obviously you don't listen to Tennis Quick Tips to find ways to lose when you're playing tennis. But these are some errors that you may be committing and not really thinking about. And I want to be sure you're aware of them and thinking about them so you DON'T commit them the next time you play tennis.
So here are my five quick ways you can easily lose your next match:
1. Having Only One Game Plan
I actually talked about this back in Episode 90 of Tennis Quick Tips which was called What is Your Plan B for Your Next Tennis Match? A lot of times, you don't know what you're going to be facing from your opponents. And if your Plan A isn't working, you need to be prepared to move onto Plan B and sometimes you even need to be ready with a Plan C. If you go out on court with just your one game plan, and haven't come up with a Plan B, you're in danger of losing your match quickly. Especially in doubles, you need to make sure that you and your partner know what you're doing, what your Plan A is that you're going to start with from the get-go, and have a back-up Plan B if that doesn't work.
2. Using a Game Plan or Tactics That You Don't Have
So let's say that your Plan A isn't working and you come up with a Plan B and that Plan B is to play hard, aggressive tennis up at the net. Maybe you like to play the lob game as your Plan A but, if that isn't working, now you're going to try and come in aggressively to the net and finish off points quickly with nice sharp volleys. If you are not good at transitioning to the net, if you are not good at hitting quick volleys, that's probably not going to work for you.
3. Playing How You Like Instead of Playing to Win
This is a big one for me. I'm very guilty of playing how I like to play instead of playing the way I need to play to win. If you're like me and like to play a fast aggressive game, but you're being lobbed to death, you may need to back off the net some, be more patient, and wait for the right opportunity to play an aggressive winning shot. Similarly, if you like to stay at the baseline and just trade groundstrokes with your opponent but they're up at the net finishing points, you may need to get more aggressive yourself. So always be aware of what is happening and be prepared to play a different game from the one you like to play if that's what it takes to win.
4. Changing a Game Plan That Is Working
This lob example is giving me a lot to talk about. Again, when you're winning, it can be very tempting to now start some things that you've been holding back on because they weren't working out at the beginning of a match. Or maybe they're things that you've been practicing that you just want to throw into a match. A good example of this is when you're doing great hitting cross court returns. Your opponent at the net isn't poaching. The returning opponent is having trouble with your returns. But now you get it into your head to go down the line or go at that opposing net player. That may not be what you need to do right at that moment. You need to stick with your winning game plan instead of trying to change it up for whatever reason. Changing that winning game plan is a quick way to lose your next tennis match.
5. Failing to Keep Your First 2 Shots In
So, what I mean here is, let's say you're returning. If you can get your return in and then get your next shot in, you have a very good likelihood of winning that point. This means you're being consistent and you're keeping the ball in play. Again, if you're failing to do this, if you're hitting returns out, you're giving away free points. If you can't keep the next shot after your return in, you're giving away free points. Sometimes all you need to do is think about getting through those first two shots and let your opponent make the mistake. Again, failing to keep those first two shots in, just think about it like that, keep the first two in, if you can't do that, you can quickly lose your next match.
So don't commit those five tennis errors. Don't do those things in your next match. Because if you do even just one of those, you can quickly lose that next match.
RESOURCES AND LINKS FROM THIS EPISODE
Check out this previous episode of Tennis Quick Tips, all about the importance of having a Plan B: What is Your Plan B for Your Next Tennis Match? Tennis Quick Tips Episode 90.
You can also find my post all about this week's sponsor, Tennis Trunk, by going here: Play Really Great Tennis with Really Great Gear Delivered Right to You. If you're interested in trying out Tennis Trunk, for you or your best tennis buddy, the nice people at Tennis Trunk have a special deal just for Tennis Fixation followers and Tennis Quick Tips listeners. They are offering you $5.00 off your first Tennis Trunk. Just visit their website - www.TennisTrunk.com - and use the discount code TENNISFIXATION at check out to get $5.00 off your first Tennis Trunk.
SHARE, SUBSCRIBE AND REVIEW
I would love it if you would take a minute to leave your review on iTunes. Just click here: Tennis Quick Tips on iTunes. It will help the show become more easily discovered by like-minded, awesome people just like you. And if you want to make sure you never miss an episode, be sure and subscribe on your smart device. You can click here to find the show in iTunes: Tennis Quick Tips on iTunes. Or you can click here to find the show in Stitcher: Tennis Quick Tips on Stitcher.
GET A BETTER SERVE FAST!
And if you're interested in getting a better serve - fast! - get my free ebook, 10 Quick Fixes to Improve Your Serve: No Lessons Required.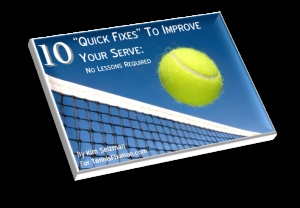 By applying the 10 simple tips to your serve that I give in this ebook, your serve can become a tool that you can use to gain control of points. It can become more powerful, more accurate, and something you're actually proud of. Just enter your email below and you'll get instant access to this free ebook as well as weekly updates with all of my best tennis tips!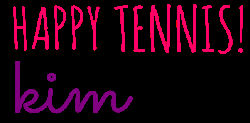 © Kim Selzman 2016 All Rights Reserved
This episode was sponsored by Tennis Trunk and they were nice enough to provide me with my own Tennis Trunk to try out. This does not influence my opinion and I always tell the absolute truth about every item that I review.
Podcast: Play in new window | Download