Oh, what a great new character!  In 2013, Mattel released Wydowna Spider as a San Diego Comic Con (SDCC) exclusive.  I wasn't completely over the moon about her, so I decided not to spend the outrageous second hand market prices on her.  This new I love Fashion release, though, is awesome!  This set comes with three complete outfits (shoes included), all of which are winners!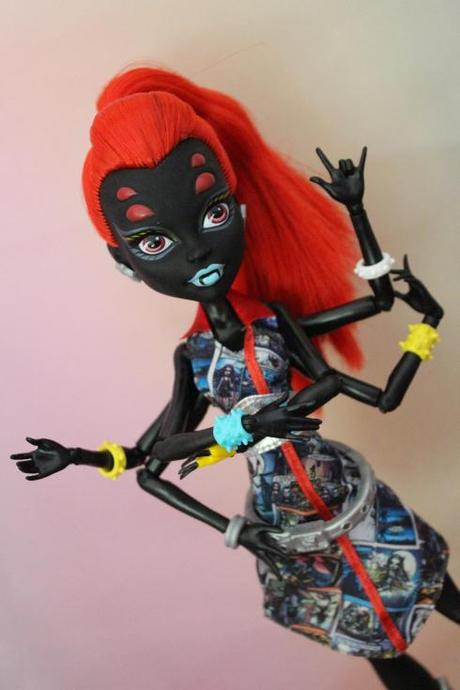 Wydowna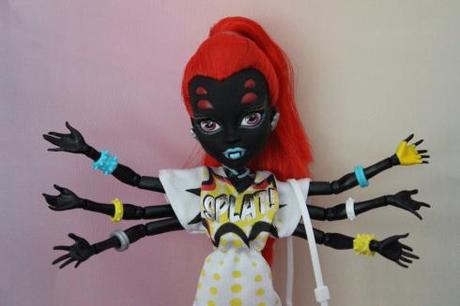 Wydowna
Wydowna is a fun, new Monster High doll. She has a head of fiery red hair that is done up on a ponytail.  While simple, it is made a little more stylish with a bouffant-esc front.  The color looks great on Wydowna's matte black skin.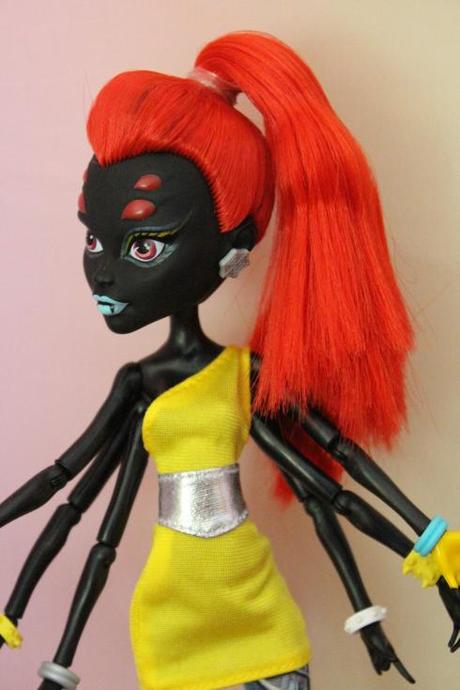 Simple hairstyle
Wydowna's face is pretty neat.  She has four evenly placed red bumps on her face to make her look more spider-like. Because of the dark skin, blush would look strange on this girl, which means she can have more elaborate eye make up!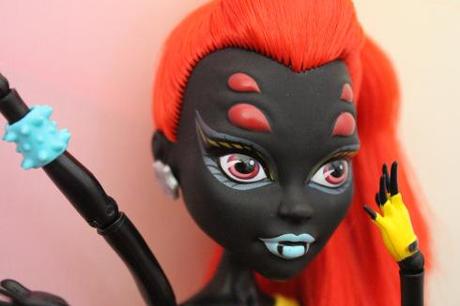 make up
Right above her eye is a layer of yellow shadow which is topped with a light blue, done up in a winged shape around her dark red eyes.  Her lips are a fun teal blue, which look equally as great on her dark skin.  Because she's a spider, she has two little black fangs on her lips.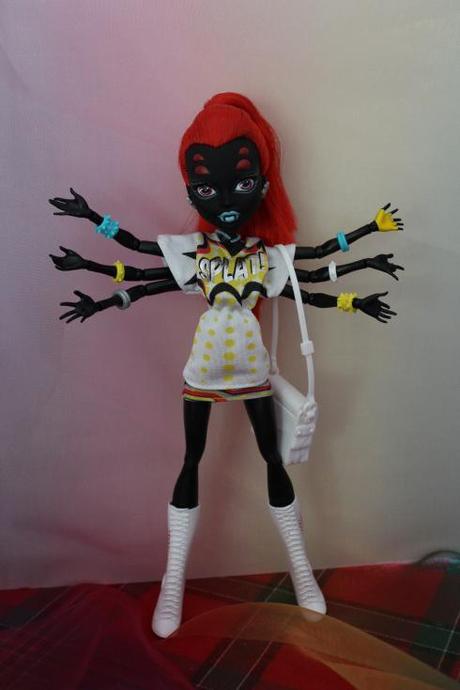 3 pairs of arms
Her body is neat.  The obvious difference between Wydowna and other Monster High dolls are her many arms!  Being a spider, Wydowna has three pairs of arms (six arms).  Amazingly, they all move fluidly and don't make her terribly hard to dress!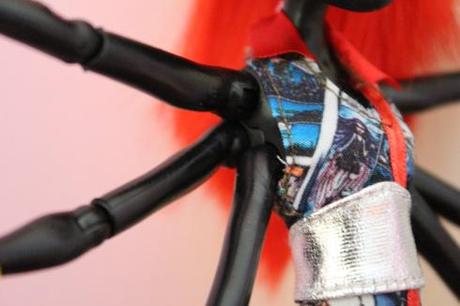 joints in arms
Another great thing about her arms is that there's a variety of hands used on Wydowna.  We have the casual hand, the gloved hand, the rock n'roll hand and the waving hand.  I love the variety!  Her legs are typical Monster High legs with your traditional jointing.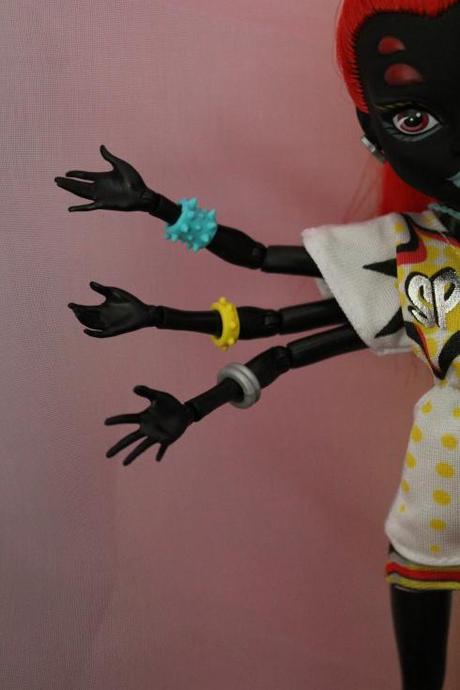 Hands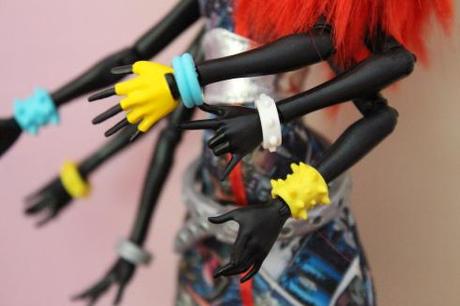 hands
The outfits in this set are fantastic.  I really like the comic book theme that runs through all three outfits.  One look features a one shoulder sleeveless yellow shirt paired with fun comic book strip themed leggings.  It is paired with yellow heels embossed with spiderwebs.  I added the silver belt from another look to top this off.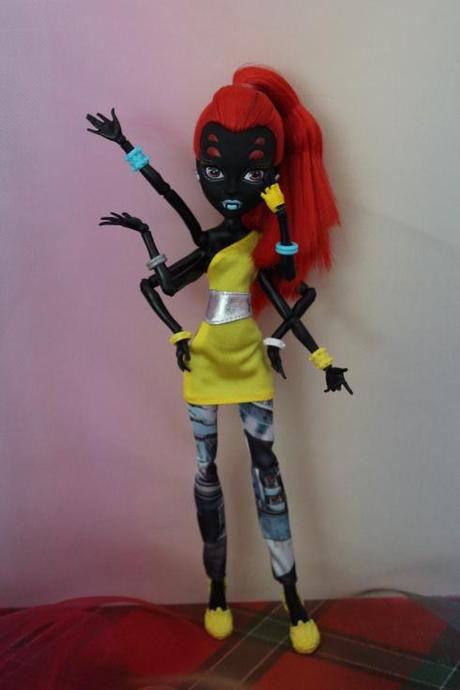 Yellow Outfit
The second outfit is a white hippy style shirt that says 'splat' in comic book style writing, paired with a short striped skirt.  The skirt could be a little longer, for my taste.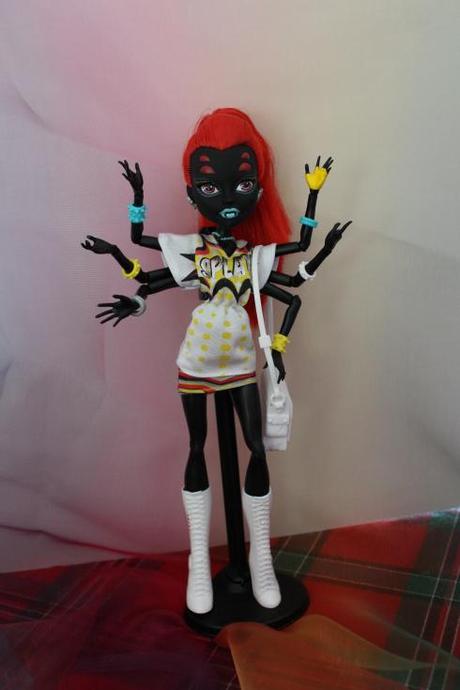 Splat Outfit
The last outfit is a halter dress with red ribbon cutting in down the center with comic book panels featuring different Monster High scenes. They're definitely worth taking a closer look at.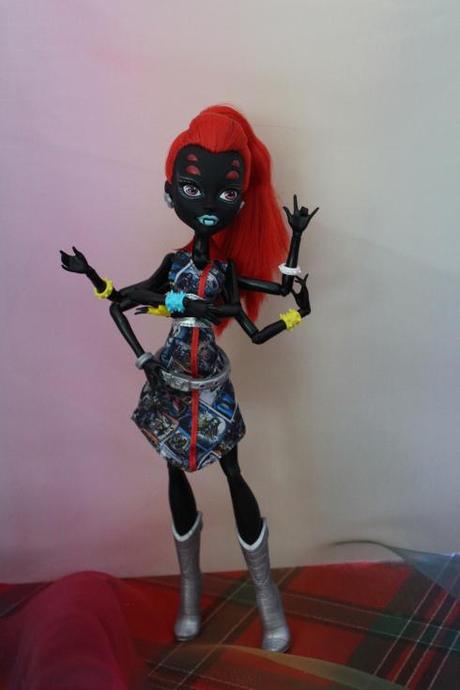 Comic Outfit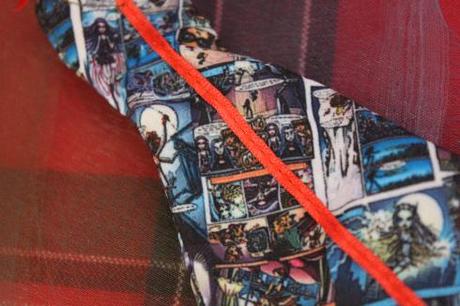 Closer Look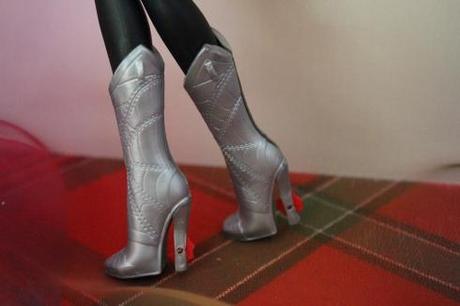 Shoes with working spurs
All three outfits fit Wydowna's multiple arms just fine.  She comes with multiple bracelets in yellow, gray and teal, which work with all three outfits.  She also comes with a necklace and gray spider web earrings.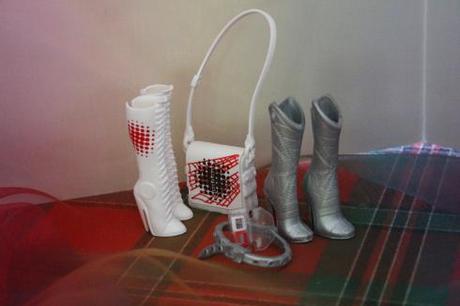 Accessories
Besides the yellow heels, this set includes silver boots with red spurs (that really spin) and white books with red highlights. Finally, she comes with a purse that actually opens and closes!  A useable prop is always welcome!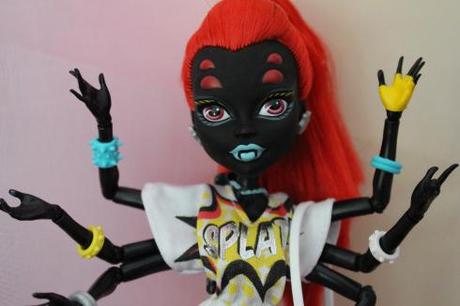 Wydowna
Her stand is disappointing.  It isn't the stand that goes up the dress, but the one that attaches to her waist.  Unfortunately, it doesn't stay together on its own.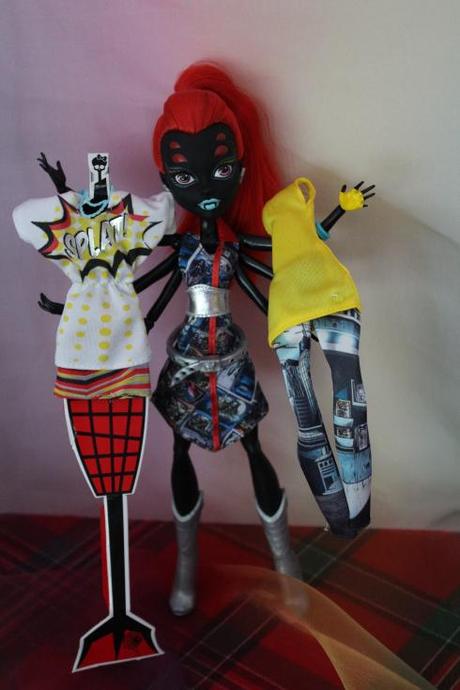 The Set
Overall, I love this release and am glad I held out for the worldwide release of Wydowna. She's pretty awesome! Mattel chose the color scheme well for this doll and her style is fantastic.  What do you think of Wydowna?  Share your thoughts below!