My favorite of the three new Freaky Fusion girls is Bonita Femur, which is surprising, seeing as her promo shot was my least favorite.  Part moth, part skeleton, she's pretty awesome.  Like the other three girls (Avea and Sirena), she has the ability to stand on her own, due to her large wings.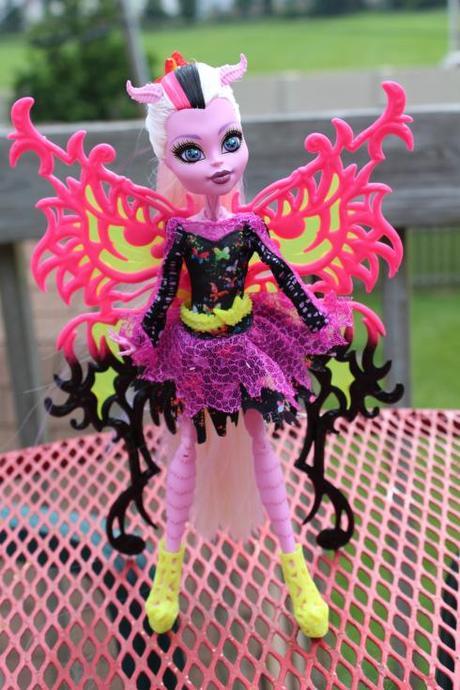 Bonita
Starting from the top, Bonita has long rooted white hair, highlighted with streaks of pink and black.  It's styled in a pony tail. When compared to other Monster High dolls, this style is very simple. However, it works for Bonita.  Any other style would cover up her wings, which are the standout piece on this doll.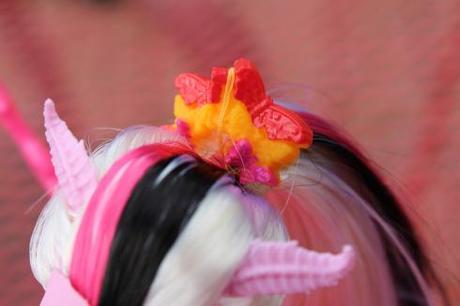 Bonita
She has a plastic hair accessory, that, honestly, I don't feel does much to add to the outfit or hair style.  It also looks a little fragile.  If you are giving this to a child who plays around others who might put small things in their mouth, you may want to keep an eye on this hair piece.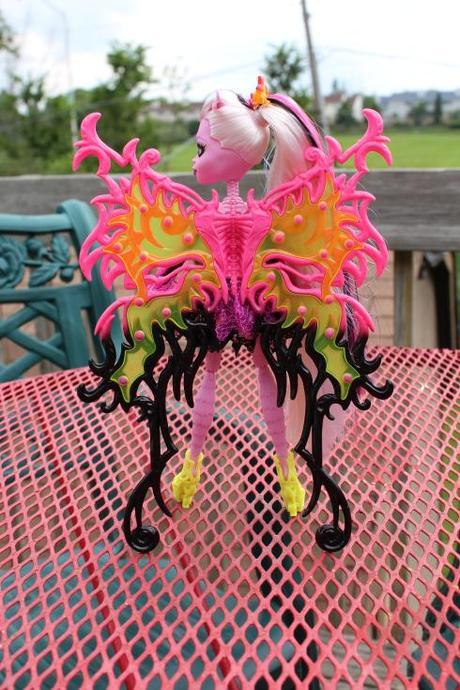 Bonita
Bonita has pink skin and moth like ears.  I love her ears.  They look great on her and are a nice change from the usual ear molds.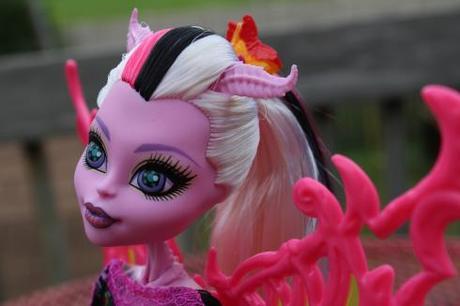 Bonita
She has purple features, including purple eye brows and eyes.  She has heavily painted eye lashes, highlighted with a light yellow eye shadow.  What I love about Bonita's eyes are their size and shape.  They are bug like, but not too bug like.  Bonita has deep mauve lips, with purple liner.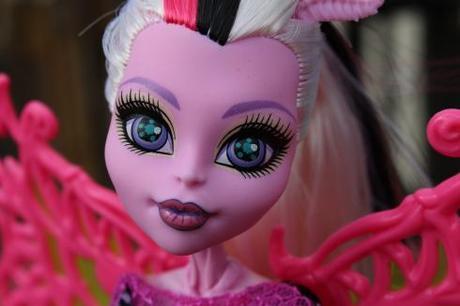 Bonita
Being half moth, half skeleton, Bonita has a very interesting body.  Her torso is all skeleton.  It's wrapped in a clear plastic binding to help her outfit fit properly.  Her arms and hands are, also, skeleton-like.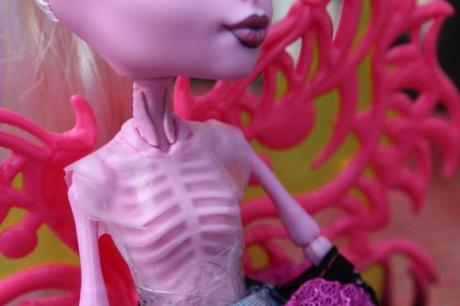 Bonita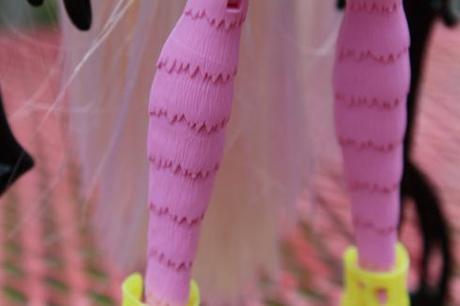 Bonita
Her legs, however, are all moth.  They are molded to look fur-like.  The mix of creatures is pretty interesting and works well.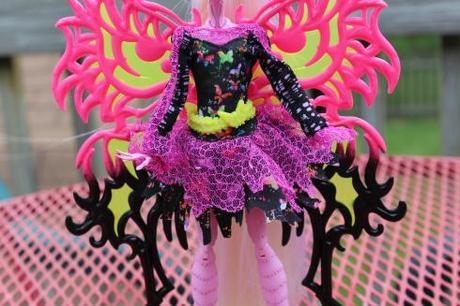 Bonita
Bonita is dressed in a black dress with dark pink lacing embellishments.  Colorful moth designs finish the look.  Bonita wears a plastic yellow belt that matches her yellow shoes.  It's a nice outfit choice.  I like the uneven cut on the skirt.  The colors look great on her light pink skin.
For having a huge pair of wings on her back, the outfit fit well and seems to stay on as it should.  Mattel did a good job at designing an outfit that shows off her neat spine and wings and covers what it should.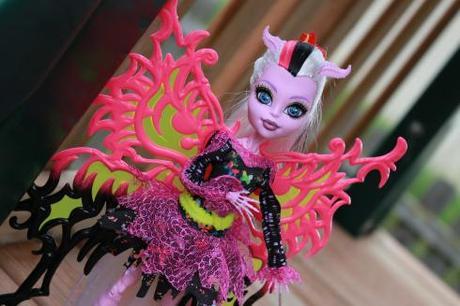 Bonita
By far the coolest feature on Bonita are her wings.  They look so neat in person and, while they do take up more space than usual, they allow her to stand on her own without the usual hit or miss Monster High stand.  Her yellow wings are outlined in a bright pink that moves into a black towards the bottom. The wings are one piece and are removable.  I, personally, don't plan on removing them.  The center of the wings is very spine-like, bringing in the idea of her being part skeleton.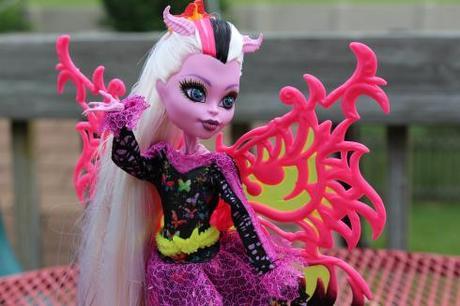 Bonita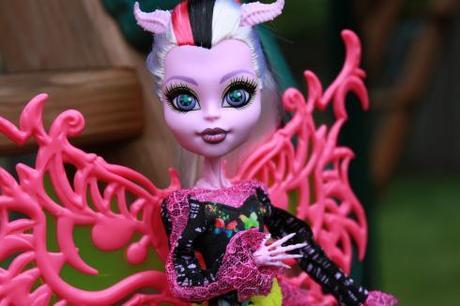 Bonita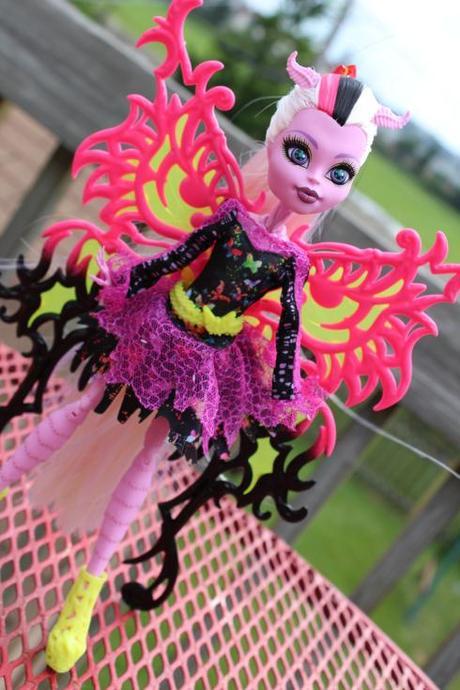 Bonita
Bonita may take up twice the space on my shelving, but she's totally worth it.  She's a great edition to the Monster High line with her cool wings and unique eyes.
What do you think of Freaky Fusion Bonita?  Share your thoughts below.