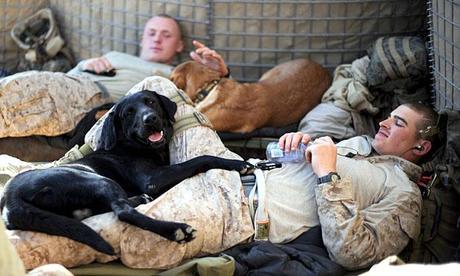 Spot made the clandestine journey from the Afghan Taliban stronghold of Helmand to the capital Kabul, where he is undergoing medical treatment before moving to the United States to live with the family of the Marine who rescued him.
His ears clipped and tail severed from his days as a fighting dog, the surprisingly docile ginger and white mutt is one of hundreds being adopted in increasing numbers by foreign soldiers, who pay vast sums to take their new pets home.
"Dogs have been proven to help post-traumatic stress and the soldiers who adopt them are addressing this," said Pen Farthing, founder of British charity Nowzad, an animal shelter on the outskirts of Kabul.
A former Royal Marine, Farthing adopted his dog Nowzad, named after a Helmand district, during his tour there in 2006. He then set up the charity, where dogs and some cats are neutered and vaccinated against rabies before their journeys abroad.
Nowzad has given homes to over 330 dogs since it was founded, mostly to soldiers from the U.S. and Britain, but also from South Africa, Australia, Canada and the Netherlands.
It costs around $3,000 to get a dog from Afghanistan to its new home, and Nowzad relies solely on much-needed donations. It is now trying to raise $250,000 for a new plot of land.
The dogs' birthplaces in some way reflect the thrust of the NATO-led war against Taliban insurgents, which has experienced some of its toughest fighting in the militants' southern bastions.
"We're seeing more soldier rescues than ever before. When you're being shot at by the Taliban every day, dogs give you that little bit of normality," Farthing said by a row of outdoor pens holding black and yellow puppies.
Nearby stood Dshka, an affectionate gray hound rescued by a U.S. Marine sergeant in Kajaki in Helmand, where British forces handed security to the U.S. in 2010 as part of the American troop surge. His neighbor, Poppy, a small black dog from Kandahar, will soon go to a British soldier's home.
Afghans bring the dogs to the capital by car, often through large swathes of Taliban country over days.
Workers at Nowzad are now hoping that Afghans will begin to adopt dogs, banking on a changing attitude to owning pets.
Poverty prevents many Afghans from having dogs and cats at home, and some Muslims believe dogs are unclean and therefore unfit for keeping. Kabul is home to thousands of stray dogs, and many are shot and killed.
Dogfighting, which the austere rule of the Taliban outlawed, enjoys enormous popular support across the country, as does birdfighting, and welfare groups say there is little respect for animals.
"City workers say dogs are a threat to people's lives but this is cruel," said Afghan veterinarian Abdul Hadi, one of two working full-time at Nowzad. "Dogs have the right to live and it is time for Afghans to enjoy them."
Afghan families are beginning to adopt dogs from Nowzad, they said, giving promise to the charity's goal to become Afghan-led in the future.
~Courtesy of http://www.reuters.com